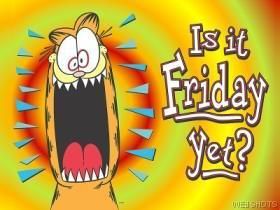 Well. My week is going okay. I guess. I havent stumbled, but didnt eexercise wed. Feels like an ear infection and I made an appt to see the dr today. So I leave work and jump in my car (in the rain no less) only to have it die. Crank.. idle.. die, crank.. idle.. die. (repeat ad nausium) So I drove with two feet, all the way home and straight to the car repair folks. Luckily they werent busy and fixed the "idler arm" --- a $188. idler arm. Notorious for Fords. Greaaaaat! So I called to tell the dr office what happen. Thats fine. No sense them waiting on me, right? The next appt is for Monday. So I've waiting 3 days w/ a ear infection and now I get to wait 4 more days. Surely my head will explode before then.
Walking on a treadmill with an ear infection - is a sure fire way to step wrong and have it make that LOUD squealing noise - that makes everyone jump, look and stare. Greaaat. Not to mention the motion of walking (and jiggling) is enuff to make you really sick to your stomach. Greaaaaat.
Now let me tell you - coming home, instead of working out... and being bummed out AND not feeling good... is a sure fire cause for the "pacing of the kitchen" - yano when you go in and stare in the frig... stare in the freezer... stare in the pantry. And think.. what the heck am I wanting to eat. Yeah. Battle Ongoing! I will be victorious - dern it!
Mark the calendar. There was NO donuts at work today! (gasp)
There is however a meeting upcoming and the boss says "I'll buy breakfast tacos for everyone" - OH GREAT. Eggs sausage and potatoes wrapped in a tortilla. I could probably eat four of them (and promptly be in a diabetic sugar coma and wanna fall asleep all day. So I asked, "how bought some fruit instead"
I'll bring my own then. Fine. Im not going to get side tracked. NOT NOT NOT. I'm not WILLING to give up my success for a morning potato coma!
If I have learned one thing - that is to plan my meals and snacks.
Lately its been oatmeal or yogurt for breakfast. Later a banana.
Later either lunch, or my snack fruit. Then Healthy choice or leftover dinner for my lunch. My numbers are great. Watch me do this.
... and then watch ---- as I wear my new gray pants (button zipper kind)... and went I went to the bathroom. I pulled them down like they were elastic. I went to get up and realized what I did.
And pulled them right back up. I didnt even un-button them!!!
I tried on some shirts this morning to go with the pants.
OMG --- EVERYTHING LOOKS SO .. BIG!
WOW.. now that doesnt happen much... but look. They are like all hangy on me.
For those reasons right now... Im not surcoming to work pressure. Im not willing to give up the rush of not having to unbutton my pants to pull them down... for one lousy taco. And for those of you that know my secret war-fare against the office donuts...
I dont want no roach and mouse slobber on my food. ewwww.
Okay.. so. I've rambled enuff for the moment. So there ya go. There's my week of mindless thoughts and rambling ...
Love you all!
Rhonda