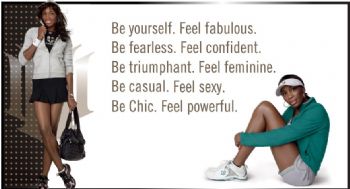 Last night I tortured my poor body... okay not really... by doing some excerises!! It felt good to do something... anything after 2 years.
I wasn't able to do the amount of reps recommended, but I was proud of what I did do.
Back extenstion: not to bad... got to focus on keeping my legs still
Banana: OUCH what a challenge!
Crunches: Love these! Always have been able to many
Crunches with a Twist: I always wonder if I'm doing them right, they feel good!
Dolphin Pose: I can learn to love this, so challenging
Hip Flexor: blah blah boring
Modified Plank: OUCH! Harder then it looks. Super Challenging!
Okay, not many, but I enjoyed doing this. I think I'm going to find some others to do during my lunch today. I don't have any equipment, or even any good can foods to use for weights, but I may do the wall pushups. :o)
Oh, I started working on my Visual motivations, hence the Venus Williams pic above. :o)