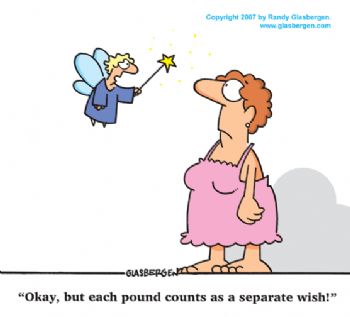 If it were only as simple as wishing away the pounds..then I'd be as thin as a rail! But wishing will not do one thing--it takes ACTION on my part to get a RE-ACTION. Just like my faith in GOD, if I NEVER put forth any ACTION, then I will never RECEIVE ANYTHING!!
I have to put feet to my faith and be a fruit BEARER instead of a donut EATER! I have to involve my faith in ALL I DO, including weight loss. If I rely on myself and my own will power, I don't really think I'll make it. I can wish and dream till the cows come home and that'll not do it either.
I believe that God will help those who are not sitting and waiting on help to fall from the sky---it takes some determination and courage on our part to receive anything, including help to have a successful weight loss and healthy fit body.
The first chapter of Joshua says this.."Only be thou strong and very courageous, that thou mayest observe to do according to all the law, which Moses my servant commanded thee: turn not from it, to the right hand or to the left, that thou mayest prosper whithersoever thou goest."
So I have to put forth an effort of STRENGTH, COURAGE, NON-WAIVERING OBEDIENCE, and then I will prosper wherever I go whatever I do.
SO IT IS GOING TO TAKE MORE THAN WISHING IT TO MAKE IT HAPPEN. IT'S GOING TO TAKE A COMBIMATION OF STRENGTH COURAGE AND NON-WAVERING OBEDIENCE TO EAT WHAT I NEED TO MAKE MYSELF HEALTHY AND LIVE A LONGER LIFE. I CANNOT DO ANYTHING WITHOUT THE LORD'S HELP--I AM POWERLESS IN MY OWN STRENGTH.
With that being said, I ask you today Lord, to help me to have self control and to set my eyes on you and put one foot in front of the other.
Pammy