A Simple Piece of Cheese
Monday, February 11, 2008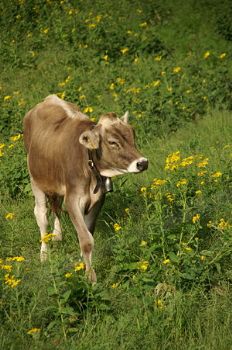 Last night, my husband and I shared a lovely piece of cheese together. I found myself thinking of all the many beings and conditions that had allowed us to have that cheese to eat.
The more I thought about it, the more grateful I felt to the cows who ate the grass, which grew with the help of the sunshine, rain, nutrients in the soil, and all the tiny creatures who helped with the pollination and growth of the grass.
I felt gratitude to those who cared for the cows that produced the milk which would become the cheese. I felt awe at the realization of the process itself of cheese-making--of all the various steps that go into its transformation, and of the time that has to pass for it to become cheese. I felt gratitude to all the people who gave their energy to then bring it to a place where we could purchase it, bring it home, and then slice ourselves some pieces to savor.
I felt amazement at all the different people, beings and processes to which I owed gratitude for this simple slice of cheese. How could I then just wolf it down? It was a complicated piece of food that had been created by the loving patience and acceptance of their lives' activities of some of this planet's creatures, and the industry of many people working to bring this small piece of cheese to our market.