We love your warm response to Fitbit, our only integration partner.

We believe Fitbit products stand well above all the others and itís great to see that our community thinks so too. In fact, we want to let you know about the newest Fitbit tracker, because for those who not only want to get fit, sleep better and eat smarter, this is the product for you.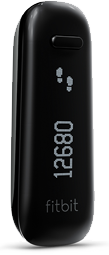 What is a Fitbit One?
Fitness means being active, sleeping well, and eating smarter - and Fitbit One helps you do all three. During the day, it tracks your steps, distance, calories burned, and stairs climbed. Come nightfall, it measures your sleep cycle to help you see how to sleep better, and it can even wake you in the morning without waking your partner. Your stats upload wirelessly via computer, or select mobile devices (like the iPhone 4S). Powered by your stats, you can set goals, and track progress with charts and graphs. Stay motivated by earning badges or connecting with friends for support or friendly competitions. Log food, work-outs and more. Bring greater fitness into your life - seamlessly, socially, 24 hours a day.