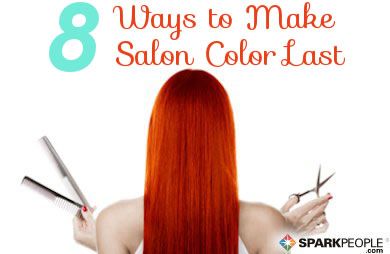 If you color your hair, there's no doubt that you spend quite a bit of hard-earned cash, as well as precious time, sitting in hair salons each year to keep your color looking gorgeous. And if you're like many people, you could unknowingly be washing a lot of that money down the drain each time you step into the shower.

Yes, coloring your hair and keeping it looking good-as-new can get pretty pricey, but there are some tried and true tips and tricks that can help you get the most bang for your beauty buck. So before you vow to never wash your hair again, read on for the know-how that will keep your color-treated tresses fade-resistant and looking fresh between salon visits.

Moisturize Your Mane
The chemicals in dye strip hair of its natural moisture and can leave your once lovely locks looking fried. This "fuzzy" look is a result of damage to hair cuticles--the outermost part of hair strands. And since hair is porous by nature, each hair-care product you add penetrates deep down causing more damage and color dullness. So, it goes without saying that keeping your hair hydrated is essential in alleviating dryness as well as preventing color-fade. Maintaining moisture takes more than a simple application of daily conditioner. Using a deep conditioning treatment before and after coloring your hair will help offset damage and lock in color.

To extend the life of your hair color even further, stylists suggest applying an at-home deep conditioning treatment every seven to ten days. Once you find a treatment that fits your budget and hair woes, apply it to damp, towel-dried hair and comb through from root to tip. Then, wrap your hair up in a bun, pin it in place and let the conditioner work its magic for 30 minutes before rinsing with lukewarm or cold water.


Continued ›
Article created on: 4/15/2013