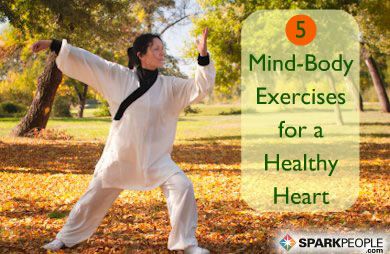 There are a myriad of factors that affect heart health. From regular exercise to smoking cessation to eating a nutritious diet, there are a number of things you can do to strengthen your heart. But did you know that the mind-body connection can also be a strong ally in reducing your risk of heart disease?

While many of us think of physical health when it comes to heart health, research shows that your mood, outlook, and stress levels strongly affect the body—and the heart. This means that heart disease prevention isn't just a matter of eating better or exercising; engaging in stress-reducing exercises and mind-body practices can significantly improve the health of your heart, too. As a bonus, these activities have other body and mind benefits, too, like boosting your mood, helping you focus, improving your fitness, and increasing your overall life satisfaction. Talk about a win-win!

Here are five mind-body activities you can incorporate into your healthy lifestyle to help your mind, body—and heart!

Yoga
Yoga is probably best known for its flexibility benefits, along with its ability to help you sleep better, feel better about yourself and promote mindfulness. But, yoga has also been shown to be a powerful contributor of heart health. In fact, according to November 2009 research published in the International Journal of Medical Engineering and Informatics, those who practice yoga have higher heart rate variability (a sign of a healthy heart) than those who do not regularly practice yoga. In addition, the study found that regular yogis had stronger parasympathetic control, which indicates better autonomic control over heart rate—a sign of a healthier heart.

Another recent study by Ohio State University researchers, published in the journal Psychosomatic Medicine, found that women who routinely practiced yoga had lower levels of the cytokine interleukin-6 (IL-6) in their blood. IL-6 is part of the body's inflammatory response and has been correlated with heart disease, stroke, type 2 diabetes, arthritis and a host of other age-related chronic diseases, making it a key marker in heart-health research. The women doing yoga also showed smaller increases in IL-6 in their blood after stressful experiences than women who were the same age and weight but who were not practicing yoga. Scientists believe that this indicates that yoga may also help people respond more calmly to stress in their everyday lives, which is a boon to heart health.

Although researchers can't exactly pinpoint which part of yoga—the breathing, stretching, relaxation or meditation—is responsible for the positive results, it's encouraging to say the least!

Continued ›
Article created on: 4/5/2011