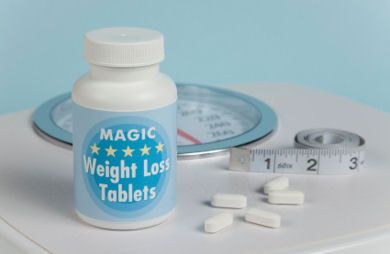 The diet pill section of the pharmacy can seem like the Wild West, as most products are considered dietary supplements and therefore not subject to U.S. Food and Drug Administration regulations. However, in June 2007, one drug became the first FDA-approved diet pill that is available without a prescription. Despite its high price tag, uncomfortable side effects, and small potential benefits, it has been flying off the shelves.

What is Alli?
Alli is a less-potent version of the prescription diet pill, Xenical (orlistat). At half the dosage of the prescription version, experts think that its potential for abuse and overall risk is low enough to be safe for over-the-counter use. You can expect to pay between $50 and $60 for a 30-day supply of Alli, which can be bought in supermarkets, drug stores, and online.

How Does Alli Work?
Put simply, Alli is a fat blocker. You take a pill with each meal. The main ingredient in the pill binds with the digestive enzymes that would normally break down fat from the meal that you consumed. Because Alli attaches to these enzymes, it prevents them from digesting about a quarter of the fat you just ate, allowing it to pass through the digestive system and out of the body, undigested and unabsorbed. Overall, fewer calories from dietary fat are stored as actual body fat.

Sounds easy, right? There's more to it than that. Alli isn't a magic weight loss pill, and its makers don't claim that it is. They are adamant that daily exercise, a reduced-calorie diet, and a specific diet plan that limits the amount of fat you eat accompany the use of Alli. If you overeat on carbohydrates, protein and/or fat, you will not lose weight by taking Alli. If you eat more fat than is recommended in a single meal (15 grams or less), you'll experience some pretty embarrassing and serious side effects (see Pros & Cons below), and still might not lose weight by taking Alli. Just like any old weight loss plan, it involves counting and cutting calories, reading food labels, limiting high-fat foods, and exercising regularly. It takes willpower, determination and consistency to see results.
Continued ›
Article created on: 6/26/2007