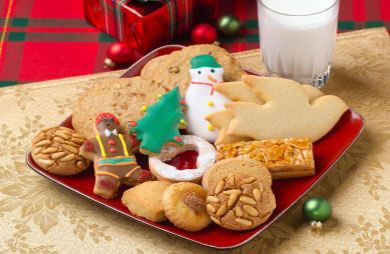 Gift-giving is one of the special joys of the holiday season. No matter which holiday you celebrate, we all face the same challenges…

"What should I buy?"
"Does she already have it?"
"Will they like it?"
"Does he need it?"

However, one thing is certain—everyone likes food! And even if they already have it, they will always need more. Plus, you don't have to worry about getting the correct size or color.

This year, give the gift of health by making someone a special, healthy treat. Nothing warms the heart and delights the taste buds (of friends, relatives, and co-workers alike) more than a delicious, beautifully-wrapped gift of homemade food. Here are some of my favorite gift ideas to get you started:

Meal Time

Italian Basket
Line a basket with a red and white checkered napkin. Arrange pasta (try special shapes or flavors), homemade or purchased pasta sauce, a wedge of Parmesan cheese, a cheese grater, an Italian cookbook, and bottle of wine.
Bean Jar
Fill a large jar with the ingredients for "Nine Bean Soup" (recipe below). Include cooking directions and a set of soup bowls.
Salad Fixins
Arrange jars of artichoke hearts, olives, herb or balsamic vinegar, olive oil, flavored croutons, fancy crackers, a wedge of Parmesan cheese, and decorative salad tongs.
Satisfying Snacks
Cheese Please!
Nestle a crock or two of homemade cheese spread in a basket along with a crusty loaf of bread (from your oven or the local bakery), packages of fancy whole grain crackers and holiday cheese spreaders.
Pretzels and Sauce
Make a batch of soft oven pretzels or bread sticks and include a spicy mustard sauce or pizza dipping sauce.
Trail Mix
Fill a holiday tin with your favorite trail mix or party mix.
Wake Up Call
Bread 'n Board
Place a loaf of store-bought or homemade banana bread, pumpkin bread, or cranberry nut bread on a breadboard. Wrap with clear plastic, and tie with a big ribbon bow. Include a small tin of flavored teas.
Muffins Galore
Line a basket with holiday napkins. Tuck in a batch of homemade muffins, or bagels. Add a couple flavored butters, and hot cocoa mix or flavored coffee.
Special Interest
Kitchen Makeover
Provide an array of gear for the first-timers (or new homeowners) in the kitchen. Include measuring cups, spoons, a can opener, wooden spoons, potholders, kitchen towels, knives, a cutting board and more. To get the cooking started, include your favorite recipes and a few foods to sample.
Herbs and Spices
Give friends who enjoy flavorful food a selection of herb seeds or small herb plants for a window box. Flavored vinegars can round out this holiday gift. Make your own by adding dried herbs to white, red, or wine vinegar. Always use clean, sterilized bottles. (See recipe for Raspberry Wine Vinegar below.)
Fitness Fanatic
Personalize a water bottle with your friend's name and recent personal fitness records. Give the bottle along with their favorite sports drinks and energy bars.
Continued ›
Article created on: 12/5/2005