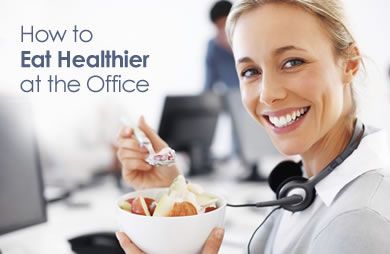 Work. It's where most of us spend the majority of our weeks. While that realization can be somewhat depressing, it also shows how your habits at work have a huge effect on your weight-loss goals. Sure, the office can be full of temptation--whether the vending machine calls your name at 3 p.m., or your boss brings in glazed donuts every Monday morning--but your workplace can actually be a place that supports your healthy lifestyle. You just have to know how to work the system. Read on for 10 ways to do just that!

10 Ways to Stop Your Workplace from Derailing Your Diet

1. Use the workday structure to work with your diet--not against it. The great thing about being at work on a regular schedule is that you have built-in structure for your day. While you may not know exactly what stress is coming your way, you probably know when regular meetings are held and when deadlines are approaching. So, just like you would for any other important assignment at work, get organized! Set aside time to eat a healthy snack or mindfully enjoy lunch without distractions, if possible. (Eating while you work is one sure-fire way to mindlessly eat out of stress!) View your planned snacks and lunchtime as any other important to-do on your list!

2. Find a weight-loss ally (or 20). We all know how important it is to have a weight-loss buddy in our social lives, and the same holds true at work. Tell your closest co-workers about your commitment to stick with a healthy diet , and see if they'll join you. If you have a good relationship with your boss, why not tell him or her about your goals? Don't be shy in reminding your superiors that studies have demonstrated healthy employees are more cost effective and productive. Before you know it, you might have everyone at your workplace changing their ways!

3. Pack your meals and snacks. Preparation is the name of the game when it comes to eating right at work. Pack a small cooler each day full of fresh fruits, vegetables, lean proteins and whole grains. It's good to bring a variety of options so that you can eat what sounds good to you at the time (this helps you from not feeling overly deprived or "stuck" with what you brought), and the extras come in handy if you have to work late. You might have to get up earlier to pack yourself a lunch and snacks, but after you start to eat better and feel better at work, you'll see that it's worth the extra time. For lunch and snack ideas, be sure to check out SparkRecipes.

Continued ›
Article created on: 8/21/2012