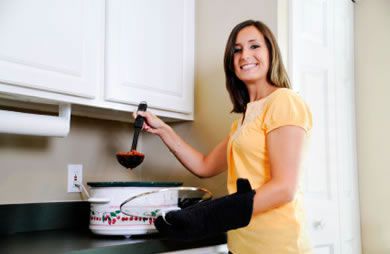 Eating healthy takes some effort, no doubt about it. Let's face it, today we might be excited to make a tasty, creative recipe that's good for our waistline, but tomorrow may not bring the same enthusiastic mood. So we slip for the next few busy days and grab something more convenient, with higher calories and much less nutritional value.

What if we chose one weekend out of the month, the weekend when our stars aligned and we actually felt enthusiastic about shopping for the right ingredients and cooking them up? We're talking about some big batch cooking. This is a strategy that lets us take advantage of when we feel high energy and we're determined to do something productive for ourselves and our family. Big Batch Weekend is devoting several hours to meal preparation so that meals become healthier and convenient for weeks to come. It means making a big batch of something today and freezing it in meal-size portions so that we can pull out easy-to-reheat lunches and dinners time and again. It takes the thinking out of making healthy choices when you need a ready-made meal.

How about making a big batch of healthy soup, stew, or a casserole for convenient freezing and reheating? Not only will it be a time-saver, but it's more economical as well. Why pay for all those low-calorie frozen dinners that cost $3-6 when we're perfectly capable of creating our own for much less per meal? Some recommendations for big batch freezing are listed below along with maximum storage time in the freezer.
Continued ›
Article created on: 3/25/2004