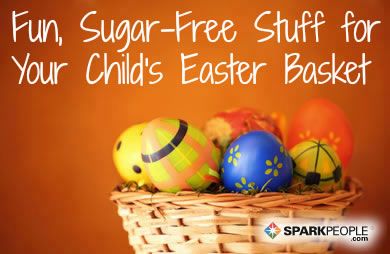 Easter is on its way! Along with Peter Cottontail, you and your kids will encounter more than your share of sugar-packed jellybeans, malted milk balls, cream-filled chocolate eggs and life-size chocolate bunnies. The common Easter basket is filled to the brim with pastel-colored candy eggs, bunnies, lambs and more, but while celebrating with sweets is fine in moderation, eating a pound of chocolate eggs in a matter of days doesn't fall under that definition.

This year, why not load your baskets and office candy jars with some alternative treats? Teach your children, grandkids, friends and co-workers that you can enjoy this spring holiday, basket and all, without overindulging in sugar. And when you do choose to treat yourself, be conscious of your choices. Instead of eating on a whim from a bottomless basket, plan your treats each day and track your calories. Don't throw away your wrappers when you're finished; keeping them in sight will become a visual reminder of how much you've already eaten, and you'll be less likely to keep reaching into that basket without thinking first.

Here are some more ideas that will inspire you to think outside the basket and still have fun this Easter!

Egg-xactly!
Those hard-boiled, decorated Easter eggs are a healthful addition to any basket. Don't let all that lean, filling protein go to waste! Peel and eat your dyed eggs plain, with or without the yolk. Consider slicing them onto a salad, including them in a wrap or pita, or making them into egg salad with light mayonnaise for a tasty springtime sandwich.

Plastic eggs are a great way to add a celebratory twist to your basket, but be careful how you stuff them. Tuck sugar-free gum, small boxes of raisins, or miniature packets of peanuts into the colorful eggs for a healthy twist. For kids, fill the eggs with age-appropriate prizes, such as beaded jewelry, lip balm, small toys or other fun tokens. Coins and small bills make for exciting treasure as well!

Beyond Bunny Carrots
For a festive look, pack orange crackers (like cheddar Goldfish made with whole grains) or dried apricots into a triangle pastry bag. Tie some green ribbon or raffia to the top and you have a healthy carrot-shaped goodie. You can even take a black permanent marker and draw a carrot onto the outside of the plastic bag to create a more distinguished look.

Create cute and tasty carrot-shaped homemade granola bars by baking your recipe in a pan and then cutting your masterpiece into lengthy triangles. Wrap them in baggies to pop into baskets. You can even add a few drops of orange food dye to make your "carrots" more colorful!

Continued ›
Article created on: 4/1/2010