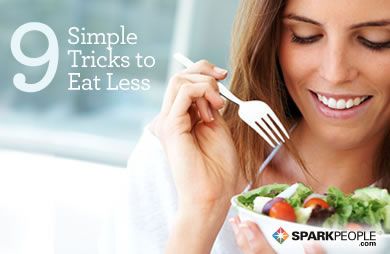 Setting a goal (such as losing weight) and implementing steps to reach it (like portion control) are two very different things. When it comes to eating healthier—or eating less for that matter—it isn't always as simple as "just eating less." Why? Because what and how much we eat is influenced by so many factors—the environment in which we're eating (relaxed at home or at a party), how much food is served (a portion-controlled meal at home or a super-sized restaurant meal), and how hungry we are (just a little or famished)—mindfulness, speed, emotional state. The list could go on and on.

The good news is that YOU can control many of these factors; it's just a matter of bringing them to the forefront of your mind until they become habits. Here are nine proven tricks you can use to help yourself eat less and keep your calories in check. Over time, they'll become second nature—and your weight loss will be second to none!

1. Enjoy every bite.
Do you take time to smell the flowers? How about taking time to enjoy every meal and snack you eat? There is truth in the benefit of slowing down and appreciating the world around you, food included. Focusing on every bite can help you practice mindful eating, which has been shown to cut down on calorie intake. Slowing down between bites allows you to recognize your feelings of hunger and satiety so you have a chance to realize when you've had enough—then stop before you clean your plate and later regret it. Eating at a relaxed pace also means you'll chew your food more thoroughly, thus experiencing fewer digestive issues and less intestinal upset. This may take some practice. The hustle and bustle of daily life often catches up with us and sometimes it takes a conscious effort to take it easy and give your brain a chance to enjoy the food and tell you when you're full. Until you get in the habit, try leaving a note or motivational saying on your dinner table. ACTION TIP: Set a timer. Start by finding out how quickly you currently eat your meals. You may be surprised to find out that breakfast or lunch at your computer is over within 5 or 10 minutes. Then, work on adding time to your meals, aiming for each meal to take AT LEAST 20 minutes.

2. Use smaller plates, cups and bowls.

Continued ›
Article created on: 9/8/2009