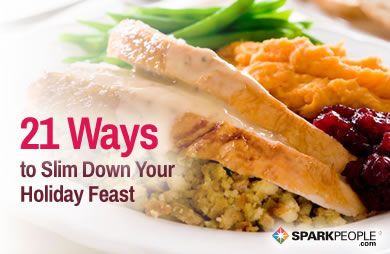 From the cheese ball and crackers before to the pumpkin pie after, Thanksgiving meals can weigh in at more than 4,500 calories and 229 grams of fat, according to the Caloric Control Council. That's more than twice the number of calories most of us should eat in an entire day, and enough dietary fat for more than three days!

But Turkey Day needn't leave you feeling so stuffed that you need to loosen your belt at the end of the day. If you're cooking this Thanksgiving, then you're in control of your own destiny because you can decide how much butter, cream and sugar goes into each and every dish. By making some smart substitutions for each recipe, you can easily save calories and fat without sacrificing flavor.

Here are plenty of quick tips and recipe ideas that will slim down your favorite holiday dishes!


Roasted turkey may be the star of the show, but it doesn't have to be a heavyweight. Turkey tends to be a lean meat—moderate in calories and low in fat. One 3-oz serving of light or white meat typically contains 140 calories and 3 grams of fat. Dark meat is more caloric (160 calories and 7 grams of fat) but it also contains twice as much iron—about 15% of your daily recommended intake. Get healthy turkey recipes here, or use these tips to slim it down even more:
Remove the skin before serving. Save 15-20 calories and 2-3 grams of fat per serving.
Baste your bird with low-sodium chicken broth or white wine instead of butter to cut calories and fat.
Let the turkey rest for 30 minutes before you carve it. If you immediately carve the turkey, the juices will run out, drying out the meat. A moister bird means less need for fatter, greasy gravy.
Stuffing is as much a Thanksgiving tradition as the turkey itself. One 1/2-cup serving typically contains 180 calories and 9 grams of fat. You'll find plenty of healthy stuffing ideas here. Boost the nutrition and cut calories with these ideas:
Swap low-sodium chicken broth for most of the butter in your stuffing. Save at least 50 calories per serving and cut the fat in half.
Add more vegetables to your stuffing. Onions, water chestnuts, carrots and celery are all tasty (and low-calorie) additions to the bread in your stuffing. So are mushrooms!
Bake stuffing in muffin tins for instant portion control.
Use whole-wheat or multigrain bread instead of the traditional white bread. These high-fiber whole grains will help fill you up faster.
Continued ›
Article created on: 11/25/2008