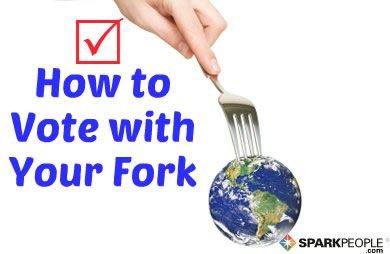 One-quarter of Americans are obese. Sixty percent live a sedentary lifestyle. And this generation of kids is the first generation since 1900 that may have a shorter life expectancy than their parents. The health of America, the world's richest nation, is failing. And what we eat (or don't eat) could be to blame. A bag of Cheetos is cheaper than a bag of apples; unhealthy processed foods are more prevalent (and less expensive) than whole foods; families eat dinner away from home more than ever before. When you hear stats like this, it's easy to feel discouraged. But changing our food landscape isn't just advisable—it is

essential

.

If you're unhappy with the way things are, consider how they got like this in the first place. McDonald's doesn't make cheap hamburgers because laws require them to. They make cheap hamburgers because people buy them. Clearly, both the problem and the solution are in our hands.

The decisions we make every day—what to eat, where to shop, how to commute—may seem small, but they send a clear message about what is important to us. If you think that change only comes from the top, and voting only happens at the polls, think again. Every time you buy food, clothing, fuel, or entertainment, you are, in essence, voting for the company that produced, packaged, and marketed it. Every time we spend money, the recipient of our dollars gets the message that we approve of their product and we want more of it. But the inverse is also true. Some cases in point:

You might not be old enough to remember Rosa Parks and the 1955 Montgomery bus boycott, but you certainly learned about the success of that 11-month nonviolent protest. People carpooled, walked, and biked to send a powerful message that it was time for change. Every dime that wasn't tossed into the bus company's coffers was a vote against racial segregation. In the end, the U.S. Supreme court ruled that segregation was unconstitutional.

You surely aren't old enough to remember the 1791 sugar boycott in England, but it's another example of how small decisions can really add up. At the time, Britain's largest import was slave-produced sugar, but there was a growing anti-slavery sentiment in the nation. When Parliament refused to abolish slavery, a boycott was organized. Sales of slave-produced sugar dropped significantly, while sales of Indian sugar, produced without slavery, rose exponentially. Women, who didn't even have the right to vote, brought about awareness and change by simply buying a different "brand" of sugar.

Continued ›
Article created on: 11/4/2008