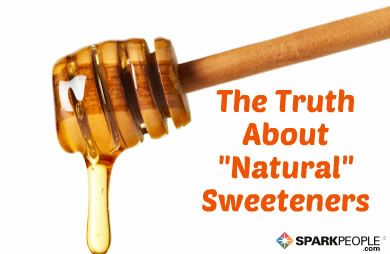 If you've wandered into a natural food store lately, you might have noticed that the selection of sweeteners seems to have multiplied. Powders, syrups, and liquids with exotic-sounding names catch your eye, each claiming to be tastier, healthier, or more environmentally-friendly than plain old table sugar. But are they really any better? Is it worth the extra expense and hassle of deviating from the mainstream to try "natural" sweeteners? Whether you choose natural, artificial or conventional sweeteners is up to you. This article provides a rundown of the most common types of "natural" sweeteners you'll find on the market to help you decide.

Sugarcane Sweeteners
Sugarcane is a tropical grass that has been cultivated by humans for thousands of years. Making what we know as table sugar from sugarcane can range from a relatively simple to a multistep process, and the final result varies depending on the specific steps in the process. Light and dark brown, powdered, and granulated white sugars are all highly refined, while others, like those listed below, are made with fewer steps on the processing chain. Fewer steps benefit the environment, because less processing means less environmental impact. It also means that more of the vitamins and minerals that naturally occur in sugarcane remain in the end product. All of these sugarcane sweeteners can be found in the baking aisle and/or bulk bins of natural foods stores.
Blackstrap molasses, unlike other sugarcane sweeteners, contains significant amounts of vitamins and minerals. "First" molasses is left over when sugarcane juice is boiled, cooled, and removed of its crystals. If this product is boiled again, the result is called second molasses. Blackstrap molasses is made from the third boiling of the sugar syrup and is the most nutritious molasses, containing substantial amounts of calcium, magnesium, potassium, and iron. When buying, consider choosing organic blackstrap molasses, as pesticides are more likely to be concentrated due to the production of molasses. Cooking notes: Blackstrap molasses has a very strong flavor, so it is best to just replace a small portion of sugar with molasses.

Rapadura is the Portuguese name for unrefined dried sugarcane juice. Probably the least refined of all sugarcane products, rapadura is made simply by cooking juice that has been pressed from sugarcane until it is very concentrated, and then drying and granulating it or, traditionally, pouring it into a mold to dry in brick form, which is then shaved. Because the only thing that has been removed from the original sugarcane juice is the water, rapadura contains all of the vitamins and minerals that are normally found in sugarcane juice, namely iron. A German company called Rapunzel is the main company that markets pure, organic rapadura in the U.S. Cooking notes: Rapadura replaces sugar 1:1 and adds a molasses flavor and dark color, so it's great in baked goods like brownies, coffee and black tea, but it may not be desirable in something like lemonade.

Sucanat stands for sugar-cane-natural, and is very similar to rapadura. It is made by mechanically extracting sugarcane juice, which is then heated and cooled until tiny brown (thanks to the molasses content) crystals form. It contains less sucrose than table sugar (88 percent and 99 percent, respectively). Cooking notes: Sucanat replaces sugar 1:1 and is also an accepted substitute for traditional brown sugar. Use it as you would rapadura (see above).

Turbinado sugar is often confused with sucanat, but the two are different. After the sugarcane is pressed to extract the juice, the juice is then boiled, cooled, and allowed to crystallize into granules (like sucanat, above). Next, these granules are refined to a light tan color by washing them in a centrifuge to remove impurities and surface molasses. Turbinado is lighter in color and contains less molasses than both rapadura and sucanat. A popular brand-name of turbinado sugar is Sugar in the Raw, which can be found in most natural food stores, and even in single-serve packets at coffee shops. Cooking notes: Replaces sugar 1:1. Turbinado is a great substitute for brown sugar, too.

Evaporated cane juice is essentially a finer, lighter-colored version of turbinado sugar. Still less refined than table sugar, it also contains some trace nutrients (that regular sugar does not), including vitamin B2. In Europe, it's known as "unrefined sugar." Cooking notes: Replaces sugar 1:1. Can be used in a wide variety of foods and recipes without adversely affecting color or flavor.
Continued ›
Article created on: 9/30/2008