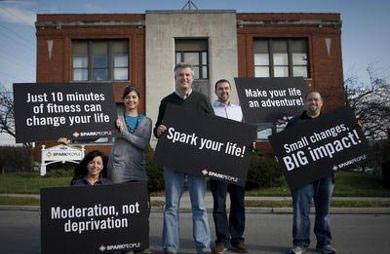 Are you an experienced social media expert who is passionate about health and fitness? SparkPeople.com, America's largest weight-loss and healthy living website, is seeking a motivated and talented self-starter with strong writing, editing and graphic skills to join our growing team in Cincinnati, OH. Candidate will manage and post to SparkPeople.com's social media platforms (including Facebook, Pinterest, Twitter and more) as well as help write and edit socially shareable web content and graphics.

Key responsibilities include:
Create and post to Facebook and Pinterest and Twitter multiple times per day in our unique voice as well as manage other social platforms (Google+, Instagram, etc.)
Analyze analytics data from social platforms, our web properties, and social campaigns
Create compelling headlines to drive traffic from social platforms and newsletters
Select and edit engaging images for web and social media
Ideal candidate will possess:
2-6 years professional experience, preferably in online publishing or social media
Basic photo editing skills and an eye for selecting high-quality "on brand" stock images
Experience running social media contests & programs
Relevant experience or specialization in health, fitness, nutrition, or related fields preferred
Excellent grammar and professional writing/editing skills
Four-year bachelor's degree (English or journalism preferred but not a must)
HTML, Internet and Microsoft office experience
Attention to detail and great organization skills
Ability to meet deadlines and manage several tasks in a realistic time frame
Ability to quickly generate creative ideas for compelling stories, headlines and features
Ability to work independently in a fast-paced environment
About SparkPeople
SparkPeople.com is one of the most-trafficked weight-loss website in America, with over 100 million page views and 14 million visits each month. Our free nutrition and wellness programs help people reach meaningful health goals, and literally save lives.

The SparkPeople office (located in downtown Cincinnati) is a fun and exciting work environment with amazing career opportunities, an on-site gym, and the flexibility for occasional work-from-home. Our small team regularly works with many of the top Internet and publishing companies. We have had very little employee turnover; SparkPeople leaders have worked together for 5-10 years.

This full-time position (40 hours per week minimum) does include benefits (401K, health/dental insurance). We are looking for someone passionate about what they do to join one of the best web teams in the world right here in Cincinnati!

To Apply
Please send resume and most compelling writing samples to careers at sparkpeople dot com. Please include "Social Media Specialist" in the subject line of your email.