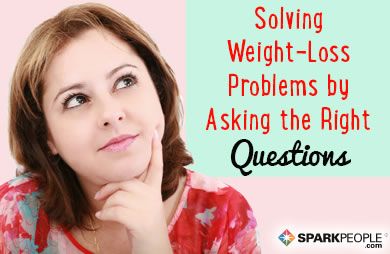 What do you do when you don't achieve the weight loss results you're looking for?

Do you resolve to cut calories even more, try harder to resist temptations, or log extra treadmill time? These ideas could work—if you've been doing less than what you know you need to do to lose weight in the first place.

But chances are that these ideas don't fix the real problem. If you already have a hard time sticking to your eating and exercise goals, then making these goals even more strict (and difficult to manage) will only make things worse. Like Einstein said, "doing the same thing over and over again, and expecting different results," is insanity—and doing even more of the same old thing is even crazier. If you want different results, you need to think outside of the box and do things differently.

But what should you do differently, exactly? Is it just a guessing game, or is there some way to quickly find and focus in on solutions that will actually work for you?

There is a way to find the right solutions, and it starts with asking yourself the right questions. Here are four simple techniques you can use to stop guessing and start asking questions that focus on solutions instead of problems.

1. Look for the exception that proves the rule.
No problem happens all the time. No matter how often you don't do as well as you'd like, there are always times when you do better than others, and it's usually not an accident—there's something about these positive times that makes your work much easier. The trick is to figure out what that something is, and how you can make it happen more often.

A good way to do this is to remember a recent time when things went well, and simply ask yourself what you did differently that time, or what was different about that situation. For example, was it easier to make the right choice because you were in a better mood? If so, what got you in that mood, and how can you get that to happen more often? What were you thinking about or doing the last time you made the choice you'd like to make most of the time? Can you find a way to spend more time thinking or doing that (or something similar) now?

2. Activate your imagination with the Miracle Question.
The Miracle Question is a great way to help yourself focus on solutions. Imagine that tonight while you're sleeping, a miracle is going to happen that will completely solve the problem you are struggling with, once and for all. How will you know, when you wake up, that the miracle has happened and the problem is solved? What will be different for you—how will you think, act, or feel differently once the problem has been solved? What will be different about the day ahead of you? Are these questions already helping you think or feel differently now, at least a little bit? How can you make this happen more often?

Continued ›
Article created on: 10/11/2006