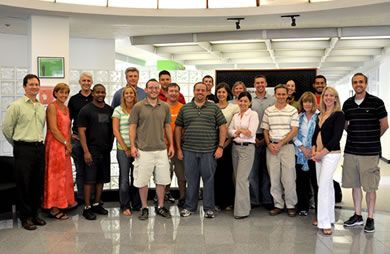 Job Description
SparkPeople is seeking a full time Digital Marketing Manager to lead PPC and direct response sales efforts. The Digital Marketing Manager will have an opportunity to play a key role on the marketing team by contributing expertise and leadership to new customer acquisition and direct sales efforts.

The successful candidate must be able to plan, organize, and execute all phases of complex, multi-channel programs, including continuously optimizing for effectiveness and efficiency. Previous experience with digital direct response marketing (including PPC) is required.

Specifically, the successful candidate must:

Collaborate with cross functional teams to set strategy and objectives for campaigns to promote internal paid products and services to the SparkPeople membership.
Manage and optimize a significant PPC budget.
Provide support and thought leadership to all other customer acquisition and traffic driving initiatives including; SEO, social media, and other paid marketing.
Demonstrate end to end ownership by coordinating all phases of campaign production and execution, including conception, documentation, targeting objectives, campaign Q/A , campaign deployment, tracking, reporting, campaign analysis and recommended next steps.
Take responsibility for overseeing the creative process and for writing copy for all campaigns.
Manage email marketing campaigns and oversee email list management (protecting against list fatigue and churn), data analysis and recommendations.
Develop and implement channel optimization and improvement strategies that provide material lift over business as usual tactics.
Required Skills
Significant experience with direct response tatics and copy writing
At least 2 years experience managing PPC campaigns (preferably most recently within the past year)
Energy / capacity to work collaboratively in a fast-paced environment
Strong analytical skills: must be able to compile, analyze, understand, and distill data into specific recommendations
Strong skills in MS Office, including Excel, Word, Powerpoint
Desired Skills & Experience
Deep understanding of the fundamentals of direct response marketing, including targeting, test design, measurement, execution, channel optimization and results-oriented creative development
A minimum of 5 years prior direct marketing, email marketing and copy writing/creative experience
Bachelors Degree in Marketing or Communications
About SparkPeople
Founded in 2001, SparkPeople.com is the most-trafficked weight-loss website in America. Our free nutrition and wellness programs help people reach meaningful health goals, and literally save lives.

The SparkPeople office (located in Oakley) is an exciting entrepreneurial work environment with amazing career opportunities. Our small team regularly works with many of the top Internet and publishing companies in the world.

To Apply
Please send resume (or LinkedIn link) and a brief explanation of why you would be a great addition to the team, to careers@sparkpeople.com. Please include "Direct Response Marketing Manager" in the subject line of your email.

Article created on: 1/26/2011