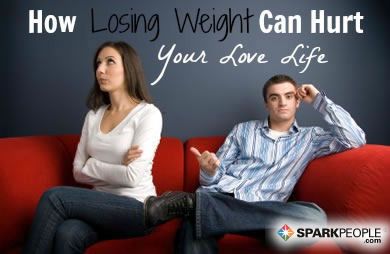 Weight loss is tricky business, especially when you're in a relationship. After all, many people fall in love because they share common interests, such as watching the same sitcoms every Thursday night, going out for rich Italian food or playing video games together. However, what happens when one person in the relationship swaps his or her Thursday night TV-watching for group cycling? Or decides that ordering roasted chicken and steamed veggies is a better option than creamy fettuccine alfredo? Or that the Wii Fit is actually more fun than Super Mario Brothers? I smell relationship trouble a-brewin'.

Losing weight and adapting to a healthy lifestyle requires a lot of change—change that your partner may not be ready for. In fact, according to some recent SparkPeople polls, 34 percent of respondents said that their spouse, partner or significant other sabotages their weight-loss efforts more than anyone else in their lives, and 43 percent said they their significant other negatively influences their eating habits. On the flip side, 24 percent say that they would be bothered if their partner gained weight, and 55 percent said they might be bothered, depending on how much weight he or she gained. Overall, it's easy to see that weight can play a heavy role in your relationship

If you feel like your relationship may be under strain because of your weight-loss efforts, there are some general warning signs to look for. Typically, these types of actions are rooted in something larger than the direct issues, so it's important to understand them fully to know where your partner's or your feelings are coming from. In general, the "why" of a behavior comes from deep-seated emotion of which you or your partner may not even be aware. For just that reason, we've added an "emotional why" section to each warning sign exploring the emotion that might be behind these behaviors. Because we know how important support is to reaching your goals, we've included some action tips on how to improve whatever situation you may be facing. This way, you can find a way to maintain your healthy lifestyle without sacrificing the health of your relationship.

5 Signs Weight Loss is Hurting Your Relationship (and What to Do about It)

1. Your partner makes negative statements about you changing.
SparkPeople member SULYLE admits that weight loss has affected her marriage. At 5 feet 6 inches, she's 13 pounds from her goal weight of 140 pounds (that's a BMI of 22.6, considered a "healthy" range for her height). Still, she says that she gets comments from her husband and his family that she's "skinny" and needs to stop losing weight. She's from the Dominican Republic, where curvier women are considered beautiful, but she doesn't feel attractive at her current size. SULYLE's story isn't that unusual. Your significant other may make other negative comments about your own weight loss or changing body because it signals change. And change is scary for your other half.

Continued ›
Article created on: 2/9/2010