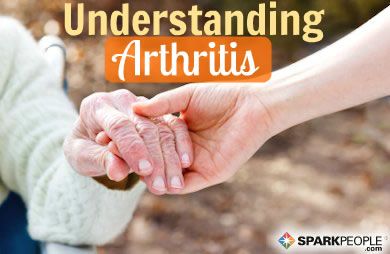 When you hear the term "arthritis," you probably imagine painful and stiff joints. While that is pretty accurate (arthritis literally means "joint inflammation"), there are actually over 100 different types of arthritis, which is the leading cause of disability in the United States. For most people, arthritis is unavoidable since the joints naturally degenerate over time. Most people over 50 years of age show some symptoms of arthritis. In general, arthritis can affect the joints, muscles, skin and internal organs, and there is no known cure for this chronic disease.

Here's a basic overview of the three most common types of arthritis.

Osteoarthritis, the most common form of arthritis, affects an estimated 21 million adults in the United States alone. Osteoarthritis begins with the breakdown of joint cartilage which results in pain, stiffness, swelling and tenderness. The joints of the fingers, spine, hips and knees, are most often affected, but osteoarthritis can also affect the shoulders, elbows, wrists and ankles.
Who's at risk for osteoarthritis? Age is another leading risk factor, because osteoarthritis usually occurs as people get older. Other factors that seem to contribute to osteoarthritis include genetics, joint damage (resulting from injury or repetitive movement) and obesity.

Can osteoarthritis be prevented? There's no fool-proof way to prevent this condition. But certain risk factors that are associated with the development of osteoarthritis (such as obesity and physical inactivity) are within your control. By maintaining a healthy body weight, getting regular exercise, building strong bones through a healthy diet, and trying to prevent joint injuries, you may be able to reduce your risk.

What are the symptoms of osteoarthritis? Common symptoms include: joint pain and swelling (especially after activity), limited flexibility, a grinding sensation when a joint moves, numbness or tingling, and deep aching in the joints. As osteoarthritis worsens, the pain and discomfort worsens and becomes constant, possibly interfering with sleep.

How is osteoarthritis treated? If you experience joint pain, stiffness and/or swelling for more than two weeks, make an appointment to see your doctor, as early diagnosis can help minimize the pain and disability of osteoarthritis. The two of you can develop a plan that includes a combination of diet and exercise changes, weight loss, physical therapy, and over-the-counter or prescription medication.
Continued ›
Article created on: 6/12/2007