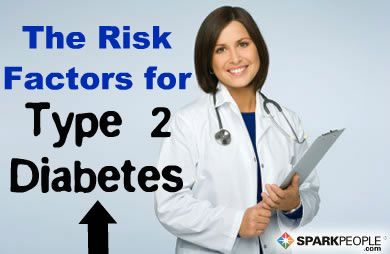 Contrary to popular belief, type 2 diabetes (a chronic disease) isn't caused by eating lots of sweets. Actually, the cause is still unknown, but there are certain factors that are known to increase a person's risk of developing this metabolic disorder. There are two main categories of risks that are associated with the development of type 2 diabetes—those that you can't change (uncontrollable), and those that you can (controllable). The more risk factors you have, the higher your risk for developing type 2 diabetes.

Uncontrollable Risk Factors
Although these factors are out of your control, it is important to know whether you fall into any of these higher-risk categories.
Your age. Your risk of developing type 2 diabetes increases as you get older. Diabetes most often affects people over age 40, and people over 65 are at even higher risk. It is recommended that people aged 45 and older be tested for diabetes every three years.
Your family history. There is some evidence that diabetes runs in families. If your parent or sibling has type 2 diabetes, for example, your risk of developing diabetes increases.
Your race. Certain ethnicities—African Americans, Hispanic/Latino Americans, American Indians, Asian Americans, and Pacific Islander Americans—are at high risk for developing type 2 diabetes.
Your health history. Women who had gestational diabetes during pregnancy are 50% more likely to develop type 2 diabetes within 10 years. Giving birth to a baby over nine pounds also increases a woman's risk. Other illnesses and conditions that are risk factors for type 2 diabetes include pre-diabetes and any condition that affects the ability of the pancreas to produce insulin, such as pancreatitis, PCOS (polycystic ovarian syndrome), high blood pressure, unhealthy cholesterol levels, metabolic syndrome, impaired glucose tolerance (IGT), and vascular disease (such as heart attack or stroke).
You may fall into many of the above categories, or none of them. In either case, pay close attention to the controllable risk factors below, as there are several lifestyle habits that you CAN change to help reduce your chance of developing type 2 diabetes.
Continued ›
Article created on: 5/22/2007