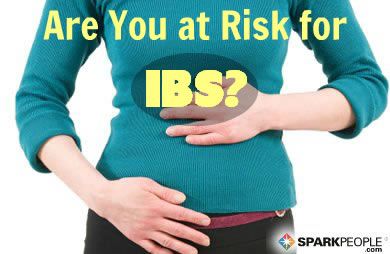 Cramping, abdominal pain, bloating, constipation, and diarrhea are some of the common and uncomfortable symptoms of irritable bowel syndrome (IBS). Unfortunately, no one has yet discovered a specific cause for IBS, but there are many factors that are correlated with it. There are two main categories of risk factors that can contribute to IBS—those that you can't change, and those that you can.

Uncontrollable Risk Factors
These variables are out of your control. Although you can't do anything to change them, it's important to know what has been associated with the development of IBS symptoms.
Your gender. Women are at least twice as likely to experience IBS as men. Due to fluctuating levels of hormones, women are more likely to experience IBS symptoms during or around the time of their menstrual periods.
Your family history. You are more likely to experience IBS if people in your family have/had the disorder.
Your age. Younger to middle-aged adults are most likely to experience IBS. In fact, half of all people with IBS will first develop symptoms before they are 35 years old, with 90% of IBS sufferers developing symptoms before age 50.
Your health history. Some experts believe that IBS may be caused by a bacterial infection in the gastrointestinal tract. But other health conditions that can cause IBS symptoms include: celiac disease (intolerance of gluten from grains), chronic fatigue syndrome, fibromyalgia (widespread bodily pain), and temporomandibular disorder (jaw pain and discomfort).
Your psychological health. Psychological conditions, such as panic disorder, depression and anxiety have been associated with IBS and gastrointestinal distress. If you are experiencing either of these conditions, consult with a therapist or doctor.
Your sensitivity level. Some people's bowels are just more sensitive. Although you can't change the sensitivity level of your large intestine, you can learn what commonly triggers your IBS symptoms, and try to avoid these triggers (see Controllable Risk Factors below).
Your immune and nervous systems. These systems regulate the functioning of the colon and the speed at which its contents move. Abnormal movement can lead to either extremely loose stools or constipation.
Your serotonin levels. Ninety-five percent of the body's serotonin (a neurotransmitter that sends chemical messages in the body) is located in the gastrointestinal tract. If levels of this important neurotransmitter are off balance, bowels problems and IBS symptoms can result.
Psychosocial factors. IBS is more common in people who have a history of psychological trauma and abuse (physical, sexual, or emotional).
Continued ›
Article created on: 5/8/2007