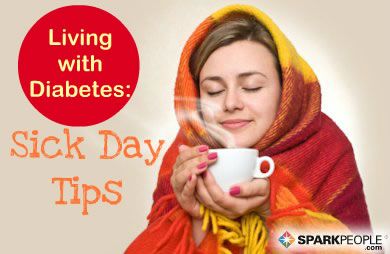 When you have diabetes, managing your blood sugar while you are sick or injured can be challenging. Any illness or injury—like a cold, the flu, a sprained ankle, a pulled tooth, or major surgery—can wreak havoc on your blood sugar control. That's because everything your body does to fight an infection or repair itself uses hormones that naturally raise your blood glucose levels. In order to prevent out-of-control blood sugar, and possibly an emergency room visit or a hospital stay, you must be extra vigilant with your monitoring. Taking good care of yourself is a must!

What you should do:
Check your blood sugar every 2 to 4 hours and record results in a log book.
Continue to take your diabetes medications as prescribed by your doctor. If you think you may have vomited your dose, call your doctor.
Check your urine for ketones if your blood sugar is over 240mg/dl, or as directed by your physician.
Take your temperature every 2 to 4 hours.
If possible, follow your regular meal plan and eat as you typically would. Try to eat the same amount of carbohydrates you normally do (typically 45 to 60 grams per meal, or as recommended by your diabetes care team).
Be prepared. Keep several "sick day" foods stocked in your pantry. You never know when you'll get sick.
Drink 8 ounces of carbohydrate-free liquids (such as water) per hour. Black coffee, tea, broth, diet soft drinks, sugar-free Popsicles and sugar-free gelatin can all provide needed liquids without any carbohydrates.
Sick-Day Foods for People with Diabetes
If you are having difficulty eating due to nausea or lack of appetite, see the chart below for suggested foods that can be used temporarily as substitutes for traditional meals. Though some of these foods lack nutritional value in the traditional sense, they will provide you with the carbohydrates necessary to help keep your blood sugar under control. For example, 1/2 cup of fruit juice, and 1 cup of regular gelatin equals 45 grams of carbohydrate that you may be able to keep down more easily than traditional foods.
Continued ›
Article created on: 9/10/2010