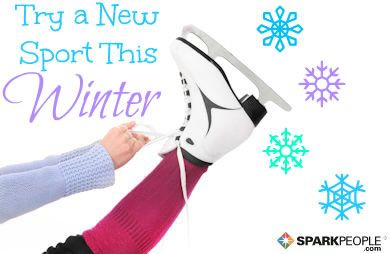 The weather outside is frightful-- but that pond in your neighborhood is delightful. Frozen solid now, it offers all kinds of possibilities for winter sports that'll keep you trim until springtime. What's more, if you take to the ice for fun now, you can take to your indoor neighborhood arena later, when warmer weather moves in and you've gotten attached to your ice sport.

Check out these ice-related activities:

Ice Skating
A sport you can indulge either indoors or out, ice skating boosts your endurance, balance and coordination—the aerobic equivalent to a light jog or run. It targets your abs, calves, hamstrings, and quadriceps. Other than a frozen pond (make sure it's safe) or indoor arena, all you need are skates that fit well and support your ankles. New skates generally cost $70-$100, and you can also find used skates at sports equipment stores. With just a few lessons, most beginners can begin to feel comfortable on blades. One hour of ice skating burns 300 calories.

Curling
Once you get your sea-legs on ice, you can try this quirky Winter Olympic event in which players seem to be sweeping the rink. Think of it as golf on ice, says Rick Patzke, spokesperson for the United States Curling Association. A team sport, it can be enjoyed no matter what your age or fitness level. It involves using brooms to slide 42-pound rocks on a long sheet of ice toward a target. It will help shape up your legs and requires the same mental focus, technical ability, endurance, and hand-eye coordination as playing golf. Search online or ask at your local ice arena for a curling club near you. One h our of curling burns 230 calories.

Ice Hockey
Also a team sport, hockey is believed to have originated in Windsor, Nova Scotia, where the boys from King's College School played the first game on a frozen pond in the 1800's. It's fast-paced-- play is limited to two "on the clock" minutes at a stretch— and you'll need plenty of muscle and lung power to sprint the length of the ice in those quick, intense bursts. At the same time, games can last up to three hours, for a super way to build stamina! Make sure you're properly outfitted for safety with helmet, protective pads, and the right skates. Gear can be somewhat pricey, but if you shop around and talk to reputable sports dealers, you can keep your investment reasonable. One hour of ice hockey burns 475 calories.

Continued ›
Article created on: 2/2/2005