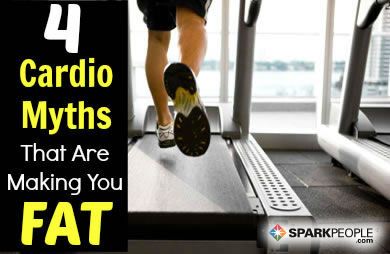 Spending a good 60 minutes on the treadmill is a surefire way to make you feel accomplished. After completing the machine's fat-burning workout, you feel great and quite proud of yourself as you stare at the number flashing on the screen: 752 calories burned. "Wow," you think. "That's enough to splurge on a little dessert later."

The old saying goes that what you don't know can't hurt you, but that's wrong when it comes to cardio machines. What you don't know about that treadmill, elliptical, stair stepper or stationary bike may not cause you physical pain, but it may significantly hamper your fitness and weight-loss goals. It's time we set the cardio-machine record straight! Read on as we bust four common cardio machine myths—and help you avoid their lure.

Myth #1: The Fat-Burning Program Helps You Burn More Fat and Lose Weight
I see this happen time and time again at the gym. People hop on their piece of cardio equipment, run through the program options and become seduced by the "fat-burning" program because they're looking to lose weight. I mean, really, who doesn't want to burn fat? But what the program options aren't telling you is that the fat-burning program was designed to keep your heart rate pretty low, as research over the years has shown that when you're working at a lower percentage of your maximum heart rate, you burn a higher percentage of fat as fuel. However—and this is a big however—because you're working at a lower intensity, you're also burning fewer calories. So if you only have 30 minutes to work out, you may only burn 200 calories with a fat-burning program, while if you were following a more intense "interval" workout, for example, you might burn 300. And, as we know, it's all about calories in versus calories out when it comes to weight loss. But it doesn't matter where those calories burned are coming from—just that you're burning as many as possible. So don't be fooled by the alluring programs on the cardio machines.

Action tip: Add intervals. Interval workouts, whether programs on the machine or created by you, a trainer or SparkPeople (click here for our printable interval training workouts), will always give the most bang for your calorie-burning buck. If you need further proof of why interval workouts are so great, check out this article. To set up your own calorie-burning interval workout, simply increase your intensity to a hard pace for 30 seconds followed by 2 minutes at an easy pace; repeat for up to 30 minutes. Once you've mastered that, try 1 minute of a hard intensity, followed by 2 minutes at an easy pace.
Myth #2: The Calories Burned Display on the Machine is Factual
I know how awesome it is to see a big number on the calories-burned screen after a hard workout. But the sad truth is that that number is usually inflated. If you think that you burned enough extra calories this morning to eat that cheeseburger for lunch, think again. Even when you specifically enter your gender, weight and age, your estimate (yep, it's just an estimate) could be off by tens to hundreds of calories. Hundreds! In fact, the majority of cardio machines manufacturers test their equipment on big, muscular guys and not your everyday Joe. Because of this, the estimated calorie burn that is programmed into the machine is based on a large man who burns tons of calories just breathing. If you're a female, this is specifically problematic. So, literally, tread lightly!

Action tip: Be cautious about calories burned. On average, most people burn about 100 calories per mile walked or ran. If your cardio machine's calorie count registers way more than this, then err on the side of calorie caution when planning your meals for the rest of the day. In general, all machines and online calculators offer mere estimates of calories burned, so never take them as fact. A better and more accurate way to estimate your calories burned for any workout is to invest in a good heart rate monitor that estimates calories burned based on your actual workout intensity.
Continued ›
Article created on: 8/4/2009