How to Use Your Target Heart Rate Information
Once you have used either formula above to calculate your Target Heart Rate range (in beats per minute), you must try to keep your heart rate within your range during your cardio activity.

Periodically check your heart rate throughout your workout to gauge your intensity level. There are two ways to do this:
Take your pulse after you've been exercising for at least five minutes. An easy way to check your pulse without interrupting your workout too much is to take a quick 6-second count and then multiply that number by 10 to get your heart rate in beats per minute. If your pulse is within your training heart rate zone, you're right on track! If you notice you are lower than the minimum, increase your speed, incline and/or intensity and count again. If you notice you are very high, decrease your intensity in some way.

Wear a heart rate monitor. This is the easiest way to monitor your intensity because it does all the work for you—all you have to do is look at a digital watch to see your current heart rate in beats per minute and/or percentages (i.e. 65%).
Additional Tips for Using Target Heart Rate
Your target heart rate (THR) range is an estimate, and it may not be the right exercise intensity for you. It's based on a formula and not everyone fits into the average. Your THR may change over time as you become more fit too, so consider reevaluating your range every few months.
Some medications (such as beta-blockers) can affect your heart rate during exercise. An exerciser taking beta-blockers may be working at a high intensity but might never reach her target heart rate. Therefore, people on this or similar medications should not use the THR method (see RPE and Talk Test methods below).
Talk to your doctor to determine the best exercise intensity for you.
Rate of Perceived Exertion (RPE)



Rate of Perceived Exertion (RPE) may be the most versatile method to measure exercise intensity for all age groups. Using this method is simple, because all you have to do is estimate how hard you feel like you're exerting yourself during exercise. RPE is a good measure of intensity because it is individualized—it's based on your current fitness level and overall perception of exercise. The scale ranges from 1 to 10, allowing you to rate how you feel physically and mentally at a given intensity level.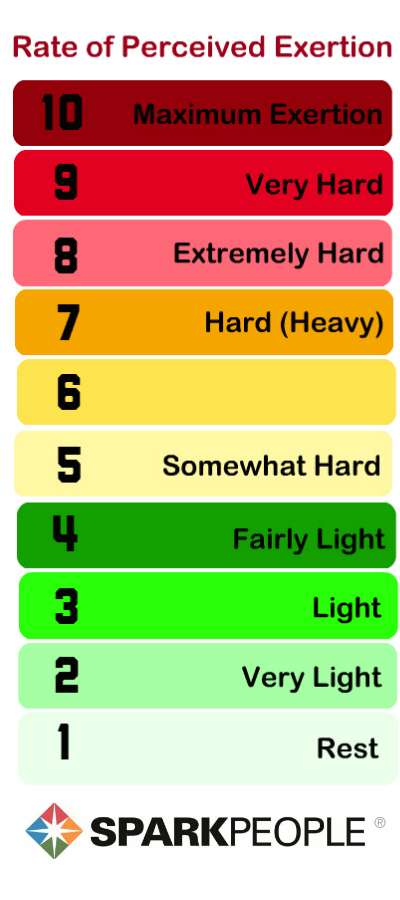 An RPE between 5 and 7 is recommended for most adults. This means that at the height of your workout, you should feel you are working "somewhat hard" to "hard."

Continued ›
Article created on: 3/3/2008