27 Sensible Ways to Satisfy Your Chocolate Cravings
Better-for-You Chocolate Treats for 60-160 Calories
-- By Sarah Haan, Registered Dietitian
Chocolate and moderation used in the same sentence? I know, it sounds crazy! But these calorie-controlled chocolate fixes will satisfy your cravings without putting a dent in your calorie budget. No longer do you need to resort to fat-laden, triple-chunk fudge brownies to satisfy your chocolate desires. These days, plenty of portion-controlled, fast and even healthful chocolate snacks are available, making it easier to say no to the double-chocolate sundaes of the world without feeling deprived.
Although this list shouldn't be taken as a message to eat chocolate anytime, it will give you plenty of delicious lower-calorie options when you do choose to take care of that hankering for chocolate.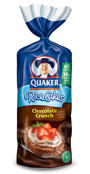 Quaker Chocolate Crunch Rice Cake
(60 calories)
Rice cakes are a satisfying answer for any chocolate lover. You won't believe that one crunchy and crispy cake has just 60 calories!
One packet Nestle hot cocoa mix made with water (80 calories)
Sometimes we crave temperatures just as much as flavors. Warm up with some hot cocoa. Mix it with water to save some calories on your snack, but if you have the room in your calorie goal for the day, try it with skim milk. It will add about 90 calories to the snack, but you'll get more protein, calcium and vitamin D!
1 cup Silk Light Chocolate Soy Milk (90 calories)
It's just like a thinner version of your favorite pudding. Rich and smooth, and hits the chocolate spot just right! When you know it has 30% of your vitamin D and Calcium, all bets are off. This is a great choice for your chocolate fix!
Half a Jocalat Larabar (95-105 calories)
Pick a flavor, any flavor! The Jocolat line of Larabars are incredible. Not only can you recognize ALL the words in the ingredients list, but they're also packed full of good fats from raw nuts. Chocolate, chocolate mint, chocolate hazelnut and chocolate cherry are just a few of the great flavors. The whole bars contain 190-210 calories, so split them in half for a perfectly sized snack and save the rest for another day.

Fat-Free Devil's Food Cake Jell-O Pudding Snack
(100 calories)
Smooth, cool, creamy, delicious, and low in calories, enjoy 10% of your daily calcium this way when you can't get chocolate off your mind! <pagebreak>
Quaker Chewy 25% Less Sugar Chocolate Chip Granola Bar
(100 calories)
This on-the-go snack gives you a small taste chocolate, plus 3 grams of fiber and only 5 grams of added sugar. It's a great treat for the road, too.

Yoplait Delights Chocolate Raspberry Yogurt Parfait
(100 calories)
Win big with this chocolatey source of calcium-rich dairy! Chocolate raspberry is a nice, rich flavor that won't leave you reaching for more.
Light "black cow" float (100 calories)
A rare summer treat from my dad, this goofy-named dessert adds a little bubble to your chocolate. Place a 1/2 cup of fat-free chocolate frozen yogurt in a cup and pour 4 oz diet ginger ale on top. You can also create a nifty combo using diet lemon-lime soda.
Skinny Cow Fudge Bar
(100 calories)
Perfect for a summer day, this frozen chocolate on a stick will put a smile on any chocoholic's face. It's rich flavor matches perfectly with the smooth texture, and come on, it's on a stick! That's just fun.
5 Hershey's Kisses (110 calories)
Eat them one by one, slowly and deliberately, and you will truly enjoy this small serving of milk chocolate. If you have trouble stopping at just five, put the bag in the freezer and only keep a stash of five thawed at any one time.
Homemade chocolate "croissant" (112 calories)
Roll one Hershey kiss into the middle of one Pillsbury Reduced Fat Crescent Roll and bake as directed for a warm, gooey dessert. Avoid poking any holes in the dough as you roll it to dodge a melty mess in your oven.

1/2 cup Edy's Chocolate Fudge Brownie Slow Churned Frozen Yogurt (120 calories)
Rich and Creamy is right on the label, and they're not kidding. This is a great chocolate ice cream with only 3.5 grams of fat per serving. However good, it's important to measure your serving carefully, a half cup is tough to eyeball!
40 DIY chocolate-covered raisins (120 calories)
Most packaged varieties contain trans fat, but you can make your own at home! Melt one quarter of a Hershey bar in the microwave, stir in about 40 raisins until they're covered, spread onto wax paper, and let cool before you enjoy!
15 pretzels dipped in chocolate (120 calories)
Dip 15 bite-sized twists into 1/4 of a melted Hershey bar for a satisfying snack with a little crunch and salt. This is quick and easy to make at home.
Chocolate Mint Luna Cookie
(130 calories)
4 grams of fiber and 3 grams of protein couldn't possibly be easier to grab and eat on the go! It also has 8% of your daily iron needs and 25% of your calcium needs. It jibes with vegans and packs a good amount of omega-3 fatty acids from flaxseeds. <pagebreak>
Microwave s'more (130 calories)
Enjoy the nostalgia of a campfire without the bug bites. Melt one marshmallow onto a low-fat graham square topped with 2-3 squares of chocolate (50 calories worth). Once melted, squish your s'more using another graham square. So good, you'll want s'more another day.
3 large chocolate graham crackers (130 calories)
If you like your chocolate with a little crunch, these tasty grahams can hit the spot when you want a cocoa-flavored snack.
Kashi TLC Dark Mocha Almond Chewy Granola Bar
(130 calories)
Coffee and chocolate in a grab-and-go wrapping that gives you 4 grams of fiber and 6 grams of protein. It's a seriously great choice when it comes to satisfying those nagging cravings!
Kashi TLC Oatmeal Dark Chocolate Cookie
(130 calories)
This soft-baked cookie has 4 grams of filling fiber. Grandma's cookies can't top that! Warm it in the microwave for a few seconds for an even more heavenly treat.
Starbucks Mocha Frappuccino Java Fudge Low-Fat Ice Cream Bar
(130 calories)
Satisfaction is high in these coffee-flavored bars that can be found in many grocery stores. They're great for a cool day and really fulfill that craving for a rich chocolate taste.
Fiber One Oats & Chocolate Chewy Bar
(140 calories)
With 9 grams of fiber, this chewy bar makes a great chocolate treat. It also has a couple of grams of protein and 10% of your daily calcium needs in a grab-and-go package.

3/4 cup Chocolate Cheerios and 1/2 cup skim milk (140 calories)
This crunchy, flavor-packed cereal is made with whole grains and will cure your cocoa craving. Be sure to measure carefully, as most folks overestimate when pouring cereal directly into a bowl.
10 strawberries dipped in chocolate (140 calories)
Dip fresh strawberries into a little chocolate the next time you're inkling for a sweet. Place 1/2 of a Hershey chocolate bar in the microwave until melted. Wash and dry 10 medium strawberries, then dip one side into the chocolate. Voila! A tasty, vitamin-packed chocolate treat that counts as two servings toward your daily fruit quota.
Homemade chocolate-banana parfait (150 calories)
Enjoy some calcium and fiber with your next chocolate fix by layering 1/2 of a banana (diced), 1/2 cup low-fat vanilla yogurt, and 1/8 cup mini chocolate chips in a sundae dish.
1 1/2 cups popcorn drizzled with chocolate (150 calories)
Get some fiber with your chocolate by drizzling half of a melted chocolate bar over 1 1/2 cups of air popped popcorn. This is a high volume and filling snack that tastes great with a little chocolate.
Crunchy frozen yogurt sundae (150 calories)
Put 1/2 cup low-fat frozen yogurt (vanilla or chocolate), 1 tablespoon chocolate syrup, a 1/4 cup crumbled low-fat graham crackers in a tall glass. Mash up with a spoon a bit to combine, and enjoy the mix of flavors and textures.
Chocolate chip vanilla yogurt (160 calories)
Mix 1 tablespoon mini chocolate chips in 6 ounce Yoplait Fat-Free Vanilla Yogurt—a simple way to give your standard yogurt snack a little pizzazz.