Good afternoon, everyone. I hope that you are all having a great week.
Because of our wet winter, the oak trees are really, really putting out the pollen this year. Not only are counts high, but it is all over everything. It is so heavy that you can see it on the sidewalks, on cars, on decks (and deck furniture) and even inside. I looked down at the kindle that sits on a bedside table in front of an open window and could see a yellowish green dust on the black cover. My cat dropped a white "mouse" toy at my feet the other night, and yup, it was a yellowish green mouse. I've been doing a lot of vacuuming and sweeping. Usually it is red pollen from that cedars that gets all over everything. But the frequent rain this year kept washing it off things and out of the air as well. So this year everything is yellow not red. What a mess.
I turned on the air conditioner last night for the first time. It is not terribly hot but so humid!! Today is heavily overcast and very dark. It's a little depressing.
Here are my latest breads. The first is a "San Francisco sourdough" make from 100% Spelt flour. I baked it this morning.
Normally I only bake one bread at a time, but this one is for DH who prefers a more sour style of bread than I do (although I certainly won't let him eat all of it!).
I prefer a whole meal bread in a less sour style. This is yesterday's bread for me, made from whole meal Kamut (an ancient, unhybridized grain in the durum wheat family). Many people who are sensitive to modern wheats can eat Spelt or Kamut. They are both harder to bake with because the gluten isn't as strong as in modern wheat.
This one has already been cut and eaten for breakfast: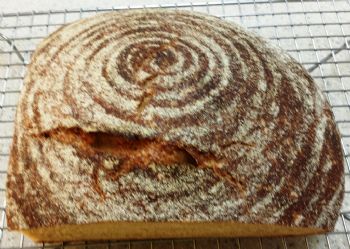 Here is "the crumb," as they say in the bread forums: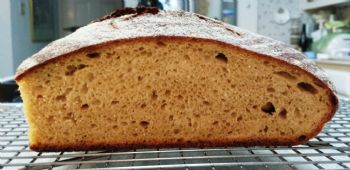 I was able to find both white and whole meal spelt flour in the bulk bins at Whole Foods, but the kamut was only available as whole grains, so I had to mill it into flour with my grain mill.
Edited by: LIVE2RUN4LIFE at: 4/8/2015 (14:47)
Catherine

If you're not having fun, then why run?

You don't get to choose how you're going to die, or when. You can only decide how you're going to live. Now.
-- Joan Baez

We are what we think. All that we are arises with our thoughts. With our thoughts we make the world.
-- the Buddha
222 Days until: California Marathon