Girls, what a warm week it's been, and fabulous weekend. I am sorry I've been MIA lately. We had my mom's burial service in Edwards, NY near Governeur on Friday. So we went to my sister's in Copenhagen on Thursday night. Stayed there till Sunday then came home.

On Saturday my sister and cousin from NH were going to come over to my other sister's and we were just going to sit and veg and chat, but her boyfriend suggested we go hiking, so we did! It was a glorious day for hiking. We went to Whetstone Gulf State Park in Remson, or something like that, and hiked up around the gorge there...5 miles! it was wonderful. We treated ourselves to a creemee when we got done! LOL we had skipped lunch, and it was 4 pm. So it was yummy! I got Teaberry.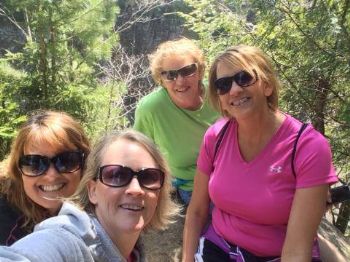 (I'm the one in the green tshirt)
Bev, sorry to hear about hubby...hope by now things are getting better with him. You two seem to have hit a pretty rough patch, but am praying for healing and know it will come.
Donna, sounds like a great hair do for summer! :) I don't highlight mine, b/c the sun bleaches it so blonde it is NOT in need of any other stuff! LOL I hate getting rid of big trees too, so know it's hard to let go. Some friends of ours just had to have a blue spruce cut from their front lawn, and it was the only tree there, and now it's so bare. It was huge, and we have one that has died too, that's huge, so know that will be a big loss when it goes...it should be cut this summer.
I have one lone tulip blossoming out front, and buds coming on the Lilies of the Valley. I have a whole patch of them transplanted a couple of years ago from hubby's parents house in MA. They are spreading and filling in, so I'm pleased, I LOVE the smell when they are blossoming. I actually go past a huge patch of them that are growing wild on one of my 5k walks, and pick a handful to bring home-just of the blossoms, so I can smell them. I hate picking mine! LOL
All you ladies, sounds like this spring warm weather is keeping you busy in the yard, traveling, walking, etc. I have started the long process of cleaning the new windows in our addition (did you know we have just 15 windows on the downstairs porch section alone (not counting the two doors or windows into the house ! Yup...so I have all but 3 done. I will try to finish tomorrow. I have to spray with Windex, clean with Mr. Clean Magic Eraser, then wipe with cloth, then use a razor on all the "stuff". They are brand new and never been washed, and hubby says there is some kind of protective coating, well it's awful! So have been going after them in the corners and all, and it's taking a while, even though they all flip in. Once the process is done, though, it should be easy from now on. I have only about 11 upstairs, though, I think. LOL and 2 doors with windows. I should put some pics so you can see it.
Well, have to get some supper, have Awana at church tonight-and have to be there by 6:30.
Hugs to all, (I had been reading your posts, but hadn't had a chance to reply. Sorry about the book length post!)

Edited by: HUBBYANDI at: 5/6/2015 (17:35)
¯`v´¯)
`*.¸.*´
¸.•´ ¸.•*¨)¸.•*¨)
(¸.•´(¸.• (¸.•´¸¸.•¨¯`•.¸¸.♥

Kat
New Haven, Vermont

"O Give thanks unto the LORD; for he is good: because his mercy endureth forever." Psalm 118:1

current weight: 158.0