We are actually getting snow! Darn weather people said Monday, and I walk outside to feed the dogs and there's white stuff falling from the sky. Just a dusting, but enough to cover the frozen dog piles that I can't pick up. Supposed to get up to 28 degrees today, but it's not moving very fast (it's only 8 degrees right now). The rest of the week is supposed to be a heat wave -- over 40 degrees -- but I'm not holding my breath.
When I went to feed the dogs, I also put out seed for the birds and food and water for the stray cats. This morning I go on the back deck and I hear a meow. I look at the windows, but there's no cat there. Then I notice that Rise (short for Sunrise), the orange and white kitty, is sitting next to the sliding glass door. We suspect he is Linus' brother, but we haven't been able to catch him yet. I gave him the food, and he ended up eating both cats I usually put out, plus a third, some cat treats and dry food. He has those great "manly" jowls, and plenty of war wounds. I've seen him catch mice as well, so he's definitely not starving. I wish he'd show up during the week so we can get him to the vet and get him neutered. The other night we saw him following a short-haired calico, and the first thing hubby said was, "No kittens!" He said that about the puppies, too.
Off to start Sunday supper. The one indulgent meal that I don't count calories on. But tonight I'm gonna make a chicken salad, I think. I've got some lemon shallot dressing I need to use up. I don't think the kids will eat a shrimp salad, but maybe if the shrimp is separate they will. Youngest daughter is at the stage where her different foods can't be toughing each other on the place. Very frustrating.
Back to school tomorrow. YEA! Have a science project to haul in. Daughter didn't do it exactly as the outline stated, but she did it on her own, so more power to her. This is a fifth grade project, and she said she didn't want it picked to go to the state science fair because that would mean missing school and such. She just wanted to get it done and she doesn't care about the grade at this point. Sounds a lot like her mother.....
Here's a picture of Rise being watched by brother Linus and another of a male pine grosbeak (there were 23 grosbeaks that showed up for breakfast this morning).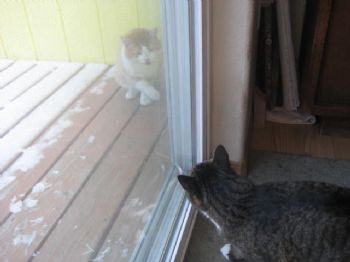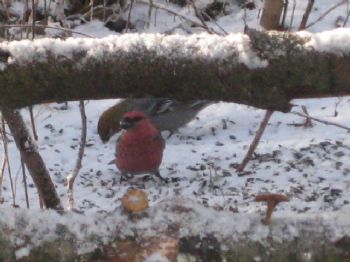 Edited by: CATNURSE1 at: 3/15/2015 (16:16)
Never give up, never quit.
current weight: 170.0