Well, I'm finally done with all my sewing and have it mailed off. The dresses and skirts came out really cute. Here's some pictures of everything I made in the past three weeks: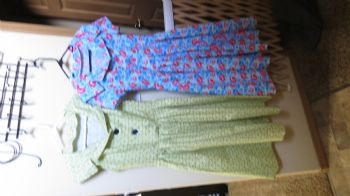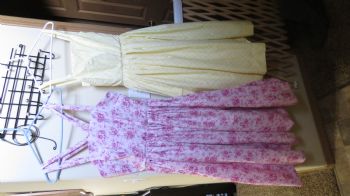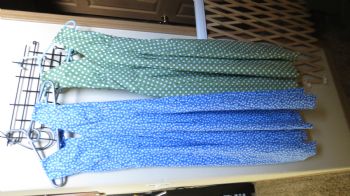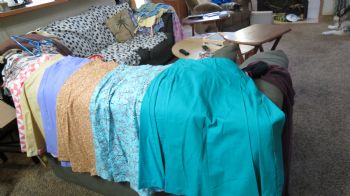 It was a total of six skirts and six dresses, all 1950's vintage. Now that I'm done with that, I have more time to reply to all of you. I have been reading your posts and enjoy seeing what everyone is up to.
Paula - what beautiful chairs. I love Amish wood work. I know you'll enjoy the chairs for years to come. Also, I know you'll get right back on track. Don't ever let one bad day ruin the next. We all know where that leads.
Linda - I know the snow and less than sunny weather in SoCal is less than pleasant to be out in, but you need it so badly. I'd be looking at it as a blessing. I can tell by your posts that you're getting more and more active. Keep it up. The results will have made it more than worth it.
Cat - I'm so glad to hear that you're going strong. I know you have to feel better because of it. I love the muffler you made for your husband. I crochet, too, and have made so many things I can't remember them all. I weave my ends in as it makes for a much smoother look in the end, with no lumps from the knots. I have made it a habit of crocheting an afghan for various fund raising events to put in silent auctions to help raise money for everything from cancer research to animal shelters. It's a skill that keeps my hands busy (like I need more for them to do) when I get the munchies and keeps my creative juices flowing. I also like the picture of the dogs

Sue - you sound so much better. It sounds like the meds are helping with the depression and I bet that will help with your weight loss goals, too, in the long run. While it can't change the circumstances you're dealing with, it can certainly help with coping. I hope the dance competition is fun.

WisdomOwl - good for you for doing some research. I think it is very important to watch your carbs, but be careful not to go overboard. Carbohydrates are the only thing that fuel the brain and there is such a thing as going too low. Quality of the carbs is also very important. Whole grains, veggies and fruits, brown rice, etc. are good quality carbs. Sugar is not. And that's what gets most of us into trouble. Balancing them throughout the day is also important. Eating carbs with protein also really helps to ensure that they are absorbed at a more constant rate, rather than having highs and lows. As to getting to the gym - just do it. Wishing and thinking about it never did anyone any good. I went to a leadership training years ago where the instructor said something about why we don't do things - it's not because we can't, it's because we won't, or we don't. I'll be the first to say that starting an exercise program is not easy, but once you do, you'll find that you look forward to it. Go easy, baby steps, but increase time or intensity a little bit each week and soon you'll wonder why you didn't do it sooner. Everyone on this thread knows that I'm now kind of a fitness freak. I work out about two hours a day, six days a week - six days of cardio for 50-60 minutes, three days of strength training, and two days of senior fitness class (functional fitness). If I can't make it to the gym, I will go hiking fr 6-7 miles in the local mountains and hills. I have a goal to climb Mt. St. Helen's again this summer (this is a very arduous climb). I could not do any of these things 2 1/2 years ago. I was lucky to make it through a slow walk for half an hour. I know you can do it. I'm out here in Washington cheering you on.
I'm staying on track. Its the end of February and I'm down 12 1/2 pounds for the year. It came off slower in February, but it still came off, so I'm happy with that. Tomorrow is skiing! For the first time in my life, I'm going skiing at Mt. Hood. I intend to come back unbroken LOL. Then I have nothing big planned until June, when we're planning to head up to the San Juan Islands and hopefully go whale watching - I'm even considering going on a kayaking trip with Orcas. We'll see... depends on cost a little, too. Then we have our permits already for the Mt. St. Helen's hike on August 25. Time to start training for that one.
Have a great weekend everyone....
Pounds lost: 98.0