lemon muffins
Sunday, January 27, 2008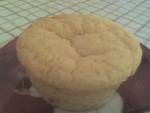 At right around 120 calories, this is fast and easy, these are large muffins, not mini.
1 boxes of jiffy corn muffin mix
1 cup of vanilla yogurt
8 table spoons of lemon juice
mix and bake.
i use a 1/4 cup to fill the tins with, i also don't line the muffin pan, just spray. i got 16 muffins out of this mixture
next time i am gonna add 12 tablespoons of lemon juice.