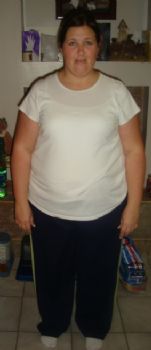 This is my new life, being more aware of how I live, what I eat, and the example I'm showing my boy's.
My name is Debbie, I'm 30 yrs old, I have a 17 month old boy, a 5 yr old boy, a 13 yr old step son and a fantastic husband who is 34. I have been "BIG"most if my adult life, I "LOVE" food. I was about 180 when I got pregnant with my 5 yr old then after the baby I got down to 199 with the help of weight watchers. Then the second time around I got up to 250 with the last boy and after trying weight watchers again got down to 215. I could always justify eating something not great for me by saying I could just use extra points and not focusing on the calories or fats. Or say I'll be good tomorrow, and waste the rest of that day at a fast food place.
Then I heard about "ALLI" , I researched it from all angles, the pros and cons that everyone was talking about. The book, the diet plan of not more than 30% fat per meal, even the side effects. I tried it last year for about 2 months and I lost about 20 lbs. I was so excited but then I sabatoged my self again and just sliped off the wagon.. Since I know "ALLI" works and I felt great while using it.. as long as I stuck to the diet, then that is my choice to start off this year in a new direction.
Since I have been heavier I have been diagnosed with "IBS" (Irritable bowel syndrome) with diarrhea, Plantar Fasciitis (severe pain in left heel), and Migraine headaches, I'm hoping that with a huge change in lifestyle and drop in weight that these "pains" in my life will get better.
My biggest aide in losing weight will be this website, no doubt. I love to be able to log on everyday, earn points, find more exercises, log my weight, track my goals and just seeing my progress everyday has been a huge motivation builder.... throughout this journey I will update with weigh-in results, changing moments, pictures, and thoughts..