It's 2008....time to lose the weight.
Friday, January 11, 2008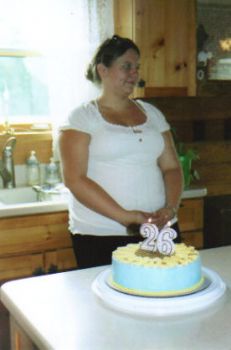 Well, it's been almost a year since my last blog. that's pretty sad. and i haven't made any improvements in my weight. luckily ive stayed about the same. BUT...
Starting the first of the year, i started trying to lose weight again. i promised myself that i would lose all or most of the weight by my next birthday. June 17th. i made this promise to myself on my last birthday. only 5 months left.....time to get busy.
I started out Janurary weighing in at 209....and currently Im at 205. So 4 lbs isn't a bad start!
my mom took a picture of me last year on my birthday.....which felt like "my bottom" when i saw it. so this picture has become my motivation. my motivation to never look like that again.
I am determined to have my picture taken behind my "27" birthday cake looking and feeling better. i don't necessarily need to be at goal weight.....but as close as i can get!
I know i have been very wishy washy about the whole losing weight thing over the last couple of years. but something about this time feels different to me. I guess it's just come to the point where im so tired of going back and forth. Im so tired of losing and then gaining it back plus more. this time im determined to lose it and keep it off! the only way to do this is to change my lifestyle completely. pay attention to everything that im eating, be more active every day and not just when i feel like it, cut out bad food and pop and drink lots of water.
i don't know what i'm going to weigh come June 17th....but I do know I'm going to feel good about myself!