Do we really need 8 glasses of water per day?
Thursday, January 03, 2008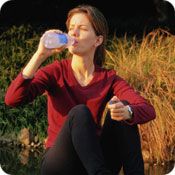 This is a question that comes up frequently on the Message Boards, so I thought it would be good to discuss it here. You might be surprised to know that there is no scientific evidence that you need 8 glasses of water per day. The source of this "myth" may be a 1945 article from the National Research Council, part of the National Academy of Sciences, which noted that a "suitable allowance" of water for adults is 2.5 liters a day, although much of that is already contained in the food we eat.
A lot of the information you'll see on our site recommends 8-12 glasses of water per day. But that's not necessarily b/c it's what the body needs to function. One reason is because so many people today get too many calories from liquids- soda, juice, etc. If you can cut out many of those high calorie drinks and replace them with water, you'll likely lose weight. Water also has other benefits such as improving your complexion, promoting regularity and helping you feel full.
Some people worry that they could be drinking too much water. Water intoxication results when a dehydrated person drinks too much water without the accompanying electrolytes. You usually need to drink a lot of water in a very short period of time to be in danger of this, which is why it's not common. If you're just drinking slowly throughout the day, you should be fine. A good rule of thumb is to check the color of your urine. It should look like you squeezed a lemon in it. If it's much darker, try drinking a little more.
Here's an article from the Nutrition Resource Center that will also give you some more information to help you evaluate your own beverage intake:
Healthy Beverage Guidelines
Cheers!