Do we really need 8 glasses of water per day?
Thursday, January 03, 2008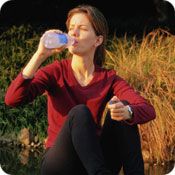 This is a question that comes up frequently on the Message Boards, so I thought it would be good to discuss it here. You might be surprised to know that there is no scientific evidence that you need 8 glasses of water per day. The source of this "myth" may be a 1945 article from the National Research Council, part of the National Academy of Sciences, which noted that a "suitable allowance" of water for adults is 2.5 liters a day, although much of that is already contained in the food we eat.
A lot of the information you'll see on our site recommends 8-12 glasses of water per day. But that's not necessarily b/c it's what the body needs to function. One reason is because so many people today get too many calories from liquids- soda, juice, etc. If you can cut out many of those high calorie drinks and replace them with water, you'll likely lose weight. Water also has other benefits such as improving your complexion, promoting regularity and helping you feel full.
Some people worry that they could be drinking too much water. Water intoxication results when a dehydrated person drinks too much water without the accompanying electrolytes. You usually need to drink a lot of water in a very short period of time to be in danger of this, which is why it's not common. If you're just drinking slowly throughout the day, you should be fine. A good rule of thumb is to check the color of your urine. It should look like you squeezed a lemon in it. If it's much darker, try drinking a little more.
Here's an article from the Nutrition Resource Center that will also give you some more information to help you evaluate your own beverage intake:
Healthy Beverage Guidelines
Cheers!
Member Comments About This Blog Post
CYLVERDUST
This is great information, I was told by a makeup specialist that the reason I have fight with dry flaky skin on my face is I don't drink enough water, sure enough when I get my 8 glasses in consistently, my face is not so flaky.


3682 days ago

STEPHLOKI
I have no problem drinking loads of water, most days more then 10 glasses. I learned that when I lived in the desert in Northern Kenya with average daytime temperatures of above 40'C. Ther I could drink up to 5 liters a day.
Last year I read somewhere that it helps to jumpstart your methabolism if you drink up to 1 liter of cold water first thing in the morning. I got used to it and enjoy it now. What I do is put a .5l glas of water next to my bed in the morning and as soon as I wake up I drink it. Then I have breakfast 30 minutes later.
I know I'd bee loosing weight faster if I would not drink alcohol. Problem is I enjoy it!
Love
Steph


3711 days ago

DEBBIE_25


The biggest thing I noticed when I started drinking 8 glasses of water a day was that my elbows, knees and the heels of my feet weren't dry and rough and actually felt smooth and soft like normal skin. Water was my only source of drinking liquid when I eliminated coffee, soda and juice, so getting in 8 glasses of water wasn't hard. Plus I also believe that water pushes out toxins and helps regulate everything, so I'll still be drinking my 8 glasses...sometimes more!


3712 days ago

EMMASMART
Maybe we don't NEED it. But I believe that's what gets the toxins out. I know that drinking 8 to 10 glasses a day is good for people with kidney stones, And I know that my complexion is awesome, I don't smoke, I don't drink Alcohol and I Do drink my water. I'd like to hear about a long term study of regular water drinkers and complexions. I think the water drinker have nicer skin, at least it's always worked for me.

Emma


3724 days ago

4CARDSFANZ
Thanks for that great information. I felt I was drowning in water but now I see I am really getting a healthy amount!!!


3724 days ago

HIPCHICK68
A well written comment. Thanks for putting the subject into perspective. I had been wondering about it since recent media hype. As always, the voice of reason has prevailed.


3728 days ago

BETHIN_MN
Dr. Oz was on Oprah one day and talked about a study that was done with a group of people. One group drank their water every day, and the other drank no water at all. It was determined that it made no difference if you drank water or not. You can still receive the necessary water from the food you eat.

But here is where water is important, at least for me. If I am not drinking my water every day, I snack more, and when I snack more, I gain weight, so by keeping myself full of water, I am not prone to snacking. That was an ahah moment for me.


3728 days ago

HAPPYMOM8
Great info on water needs. I see I need to add another 2 glasses of water a day ,myself! thanks, Pat


3729 days ago

JUSTTAT123
This is good solid information it matches what my doctor has tole me as well.
Stephani


3729 days ago

MISSJCISRUNNING
Excellent Information!!! I will certainly pass this along to my teams!!! Jackie!!!


3729 days ago

SPARK_COACH_JEN
Tanya,

Thanks for adding this great information!!

Jen


3729 days ago

TONKA14


Thought I would add a few other water facts -

* Water makes up 55-60% of the weight of the human body and is essential for life. (Biggest Loser fans take note - they pull such big weight loss numbers because of this fact. The contestants dehydrate themselves at their last chance workout and then don't rehydrate until AFTER they have weighed in.)
* Water serves as a lubricant and is the basis of saliva and the fluids surrounding the joints.
* Water regulates the body temperature through perspiration.
* Water helps prevent and alleviate constipation by moving food through the intestinal tract.
* Water is excreted via your kidneys and can be measured if needed but some water is also lost from the lungs as vapor, in feces and some from the skin as perspiration and those typically can not be measured. The medical community calls these losses, "insensible water losses".

So water is half of your weight and very important as part of your bodies daily function. A dietitians rule of thumb is to recommend that people comsume half of their weight in ounces of water (For example, if you weigh 140 pounds, you would need to drink 70 ounces of water each day. ) This is another reason the range of 8-12 cups of water is often quoted.




3730 days ago



Disclaimer: Weight loss results will vary from person to person. No individual result should be seen as a typical result of following the SparkPeople program.
More Blogs by SPARK_COACH_JEN