Thank you my friends... Meet my new dog Mac
Wednesday, January 02, 2008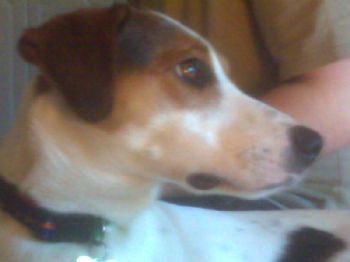 Hello my friends. I don't know how to thank you enough for all your kind words. You truly have been great. We cried buckets when our lovely Beanzie passed on. Her collar hangs in the kitchen to remind us of the sweet little dog who loved us unconditionally. She will always have a special place in our hearts.
We heard through a good friend of ours about a family who were moving house and couldn't take their dog with them. We went up to meet both the family and their dog. His name was Mac. We fell in love with him straight away and took him home with us three days later.
So now we have Mac. He's two years old. He is SO friendly and we love him to bits. He's house trained and doesn't chew our shoes! He needs walking every day and has walked the legs off of us since we got him. He also swims like a fish! With the beach being only five minutes walk from our house he has found a home from home.
Mac has helped us cope with the passing of Beanzie. I know that somewhere up there in Doggie Heaven our Beanzie is looking down, playing with her bones, digging big holes and burying Our Lords sandals. She is in a better place now.
So my friends we had a lovely Christmas together as a family and a lovely New Year with a new member to our family. I hope that your New Year is as promising as I hope ours will be.
Thank you all for being there for me.
Hugs - Polly xx