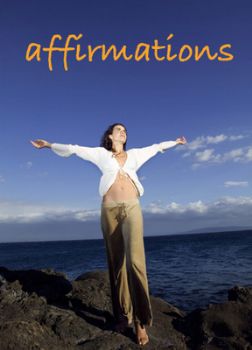 Many of us have struggled with weight issues a long time, and sometimes we approach a new 'diet' plan with somewhat jaded eyes. We have this 'been there done that' attitude, and unfortunately, the 'there' we've been to is failure. We tried. We failed. We gave up. Then after awhile another diet came out..low carb, low fat, South Beach, whatever the diet du jour was... we tried it, we failed. Once again we gave up.
So what will make this different?
I challenge you to make three affirmations daily:
1) I CAN succeed.
2) I am WORTH the effort.
3) I WILL do whatever it takes to get the weight off and get in shape.
Write those down, and read them daily, memorize them, repeat them to yourself. You CAN do it. You are capable of success. You are WORTH the effort. No matter how discouraged you may feel, you are not a failure as a human being because you are overweight, so don't berate yourself. Love yourself, and accept that you are worth the effort it takes to make yourself trimmer and healthier.
Finally, commit yourself to doing WHATEVER IT TAKES to succeed. Say it out loud, "I will do whatever it takes to lose weight and get in shape." Say it over and over and over and over again until you believe it. The first step in changing your behavior is to change the way you think.
If you have approached this with a 'I hope this works but I'm somewhat skeptical because I've tried and failed so many times before' kinda attitude... before you can change your body you have to change your mind.
If you change the way you think, believe you CAN do it, you are WORTH the effort, and commit to doing WHATEVER IT TAKES... you WILL succeed, you WILL lose weight, you WILL get in shape, you WILL beat this and like the person you see in the mirror.
Three affirmations. Write them down. Memorize them. Say them daily. Make yourself believe them.. and you WILL succeed.
I want you to join me in the winner's circle this year.
Dan