Kadusha: 2003-2007
Sunday, December 23, 2007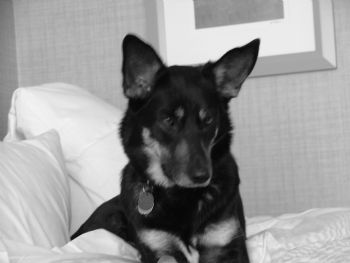 Kadusha died last night. I still can't quite grasp it. I found her in the Animal Market, a sort of take away zoo in Dushanbe, Tajikistan. She was a tiny, starving puppy, and the man was going to drown her because no one wanted a female dog. She was crying her heart out; she was so young that her eyes were still blue.
Impulsively, I bought her for $2.70. Kadusha joined my westie MacDuff, and we traveled the world. Four months ago, we moved from London to Arlington, Virginia. Kadusha struggled with the adjustment and developed some problems -- nothing that seemed too serious.
It all went wrong after lunch yesterday. By 6 p.m. we were in the vet's office. Kadusha was such a fighter. The vet marveled at the dosage it took it finally put her to sleep. I held her and reminded her of all the amazing adventures we had together as she gazed at me with those beautiful whisky-colored eyes.
I know it's going to be a long time before I'm over her. MacDuff keeps checking her crate and looking around the house for her. Odd things suddenly make me think of her and I cry.
I love the Christmas season, but this year is tough.