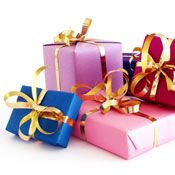 Here are a few gift ideas葉hings that I love and some that are on my own wish list葉hat are perfect for the health- and environmentally-conscious people in your life. Isn't that just about everyone these days? ;-)
CARDS
These
Grow-a-Note Greeting Cards
are made out of 100% recycled paper. Beyond that, they'll never go to waste葉hey can be planted directly into the soil and their embedded seeds will grow into wildflowers!
BOOKS
I recently got
A Slice of Organic Life
from my local library and thoroughly enjoyed it. It's a book of small do-it-yourself projects (like making soap, making non-toxic household cleansers), food tips (baking bread, raising hens for eggs, buying organic), and other eco-friendly lifestyle ideas.
Anyone interested in organic gardening/farming, community supported agriculture, local/seasonal food, environmental responsibility, limiting urban sprawl, and simple living will really enjoy
It's a Long Road to a Tomato
. It's a collection of essays/stories by a man who quit the corporate world, bought a farm, and became an organic farmer in New York.
Hungry Planet: What the World Eats
is an amazing, enlightening and entertaining book of photographs that examines what families across the globe eat every week and how war, poverty and social status also affect our diets. It's filled with information from leading nutrition researchers too and it will really make you stop and think about what's on your plate預nd why.
GREEN FITNESS GEAR
Eco-friendly yoga
mats, props and bags abound these days. I've never been disappointed with Gaiam's products.
I love my
Sigg water bottle
because it's eco-friendly, reusable and eventually recyclable. It's a must-have for any exerciser who wants to stop buying single-use plastic water bottles.
Lululemon
offers a wide variety of natural and organic apparel for yoga, Pilates and general fitness. Other brands that offer similar eco-friendly fitness gear include:
Gaiam
,
Prana
, and
Patagonia
.
HEALTHY PET
I'm a HUGE fan of
SmartyKat
toys and accessories, which my local Target store carries. They make great gifts for your own pet熔r your pet loving friend. With organic catnip, natural treats, and toys made from post-consumer recycled materials, what's not to love? My cats love the SweetGreens cat grass too. They also make
products for dogs
.
OTHER
Reusable bags are the kind of thing that many people would use, but that they don't want to spend money on themselves. I love these bags with a message, from
GetHipGetGreen.com
. They're medium-size, but of a heavyweight material and exceptionally strong. They come in two styles "Love this Planet" and "Get Hip Get Green." Another great source for reusable bags, containers, water bottles and lunch bags is
ReusableBags.com
.
http://www.sparkpeople.com/resource/wellness_articles.asp?id=735