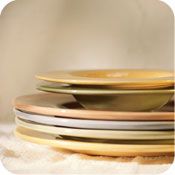 As I mention in an earlier blog post,
I was in charge of cooking and hosting Thanksgiving
this year—for the first time ever. I had lofty plans to include locally-grown foods, organics, and make a fully vegetarian feast. When I got back to the office on Monday, everyone was asking about it. It made me wonder if people didn't expect it to go well. Maybe they were just curious.
But in truth, it went off without a hitch! The food was great (and everyone loved it, even the non-vegetarians), I was able to finish it all up on time (so food was hot when serving), and we all had a great time. All in all, 12 people total showed up. I did get some help from my mom and sister, who brought a few items themselves. I can say that the worst part of it was the clean up in my tiny kitchen. I refuse to use disposable napkins, plates, utensils or cups, so with all those people, it seemed like my kitchen was stacked to the rafters with dishes. But we managed and I got a little clean up help too.
I would definitely do this again. It was surprisingly affordable even though about 90% of the meal was totally organic. Several of the dishes used local/seasonal ingredients from my farmer's market too. I didn't take any shortcuts—every item was made from scratch, even stuffing, cranberry sauce, butternut squash soup and pumpkin pie (nothing canned, frozen, or pre-cut).
What we'll definitely make again:
the soup, stuffing, tofu, pumpkin pies, fresh green beans, cornbread
What didn't turn out well:
the upside down apple pie (it was sour like a lemon, and I'm not sure what went wrong there!), the vegetarian gravy (just wasn't that popular and was a little too thick)
What I'll never make
(no matter how many vegetarians swear by it): Tofurkey! That name! I just can't do it…
The best part of all:
My first vegetarian (and healthy!) Thanksgiving! Usually I go to a family member's house and there's almost nothing I can eat. On top of being vegetarian, I'm just downright picky about food (won't eat eggs that aren't cage-free, for just one example). Most Thanksgivings involve me bring maybe one dish I can eat, and then eating some plain sides of veggies. Boring!

Friends & Family. We brought together a lot of people and it was fun to have my family around (all of whom live 2 hours away from me but near each other) for a whole day. I don't get to see them all, together, as often as I'd like.

The proof is in the organic pudding. I had a captive (and skeptical) audience to PROVE that eating healthy IS tasty.
Hope your Thanksgiving went as well as mine!