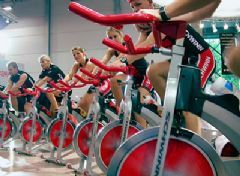 Spinning classes are my main form of cardio exercise. I teach three Spinning classes each week (and sometimes take one as a student), and I have always loved it. It's been the best form of cardio exercise I've ever done--even as I continue to get more conditioned, Spinning changes along with me since I have total control over how hard I'm working. I also like that it's lower-impact, so the chance of joint injury from impact or repetitive movement is smaller too, and that keeps me in the game.
Want to know what's in my gym bag for Spinning?
1. Gel Seat Cover ($25):
As often as I ride, it's important to stay comfortable. I for one never got "used to" the hard saddles in Spinning so I invested in a gel seat—it's like sitting on a cloud!
I bought mine from Spinning.com
, but you can get them at most sporting goods stores.
2. Sigg Water Bottle ($20):
Water is a must for Spinning! But forget those one-time-use plastic bottles that junk up the environment. I recommend Sigg bottles, which are eco-friendly, reusable and eventually recyclable. I have two, and you'll want to get one that fits your Spinning bike. If the bikes you use have small water bottle cages (these fit standard bike sports bottles), then look for a
75 Liter sports bottle with a sport cap
. If you ride a top-of-the-line Spinning bike that has two large water bottle holders on the handlebars, then size isn't an issue. For those classes, I use a larger
1 Liter size
(also with a sport cap).
3. Cycling Shoes ($125):
Okay, well mine were expensive. But I've seen people buy them for as little as $40 if you get an end of season (or online) deal. Cycling shoes make a huge difference in your Spinning classes, and they last a really long time because they don't get worn down from impact the way running shoes do. They connect your foot directly to your pedal (no more pesky cages around your shoes) and with that better connection, you're able to pull up more strongly, which means greater speed, smoother pedal strokes and better hamstring engagement. That adds up to one great workout. Most Spinning bikes are compatible with SPD or LOOK cleats (cleats are usually a separate purchase from the shoe itself), so check your facility first.
My shoes are by Pearl Izumi.
4. Heart Rate Monitor ($100):
I can't imagine working out without my heart rate monitor. Once you get one, you'll wonder how you went so long without it. It's always important for you to monitor your intensity level during exercise, and Spinning is no exception. Most Spinning classes put large emphasis on specific heart rate zones too, so a monitor will help you know exactly how hard you're working so you can adjust if you need to. I love the feminine look and feel of
my Nike Imara Heart Rate Monitor and Watch
—it's cute enough to wear even when not working out.
Besides comfortable (and bright!) dri-fit tops and workout Capri pants, all this gear is always along for my Spinning rides.