How Do I Make This Work Right Now
Thursday, November 01, 2007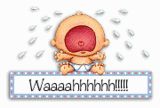 My dilemma is that I'm not getting enough sleep because my 1 yr old daughter still does not sleep through the night and is still nursing (I want to wean her so badly, but I don't know how being she wakes at least 3 x's a night to nurse!)
A night usually goes something like this:
She goes down at 7:30 or 8pm (nurse her)
Wakes about an hour later to nurse for about 10 minutes (9 or 10pm)
Wakes in either another hour or 2 hours to nurse again for about 15-20 minutes (10 or 11pm)
Wakes in another 2 hours (sometimes 3)
Lately she's not going back to sleep for me about 2 1/2 hours in the middle of the night. Last night I was up with her from about 3:30am until 5:30am. I went back to bed then and got up at 8am with my almost 5 year old daughter & the baby. It's crazy. I'm drained. How am I supposed to be able to exercise? I want to do this but I don't think I can physically do this yet.
I guess I need to try to improve my water intake & eating habits first and worry more about the physical exercise when she is sleepuing better.
Just need to vent about this today. Sorry...