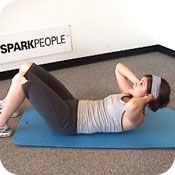 So yesterday I did something that is out of the ordinary for me. I attended a Pilates class as a student (not an instructor) for the first time in years! It was a 35-minute Mat Pilates Express class. I went to see if I could get some new exercise ideas for my own classes--but plus, I wanted to do something that wouldn't totally aggrivate a minor knee injury I've been nursing for the last week.
Anyway, the class was okay. The instructor not that great (another of many instructors I've seen who does not come close to saying enough to explain exercises correctly or offer modifications for every level). But beyond that, I did get some new exercise ideas that I plan to use in my class tonight and some future classes too.
In Pilates we used several props--the foam roller, magic circle, mini ball and even some light dumbbells. I was surprised how much I felt the triceps work using only 3-lb dumbbells. I got a lot of core and leg work out of that class, so I balanced it out by finishing up my routine in the gym:
Cable Cross Machine:
- 3 sets of biceps curls (30, 40, 50 lbs) using the low-mount and short bar
- 1 set of triceps extensions (30) using the high-mount and short bar (that was more than enough tricep work for me after that class!)
-2 sets of standing lat pull downs with straight arms (30 lbs)
- 3 sets of seated lat pull downs (45, 60, 75 lbs)
Other:
- 2 sets of dumbbell lateral and front raises for shoulders (8 lbs per arm)
- Some planks and pushups
- Stretch
Tonight's workout plan (teaching).
45 minutes of Hard Core Pilates
60 minutes of Halloween Spinning (I have a Halloween playlist and I'm even bringing the students some of my Homemade Granola Bars for treats)