Decluttering, cleaning up
Monday, October 15, 2007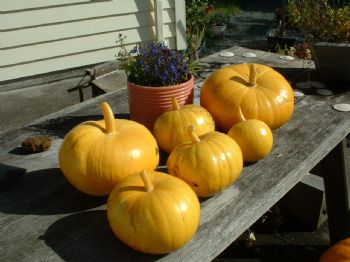 Today my husband and I had to go through his brother's multiple boxes of knick knacks - probably prizes in bingo games - because he won't be able to take them with him when he moves to a nursing home which will be his permanent home. It's hard to make decisions like this for someone who must pare down and who is unable to do this for themselves.
Mom has gone through the same thing. She lived in a retirement apartment for 15 years, then an assisted living and now an adult foster care. Thankfully she is very well taken care of. She misses small things that defined her life for so long. My sister tells me Mom was wondering why she didn't have her iron anymore. Something many of us would gladly do without. She wonders what happened to her curling iron. She hasn't used either of these for years because of arthritis and other problems in her hands. I think it's just wanting to see old familiarities. But it's sad.
The more satisfying "decluttering/tidying up" I did today was cleaning up the flower bed in the back yard. Just one little flower bed where the daylilly, hollyhocks, chives and crocosmia grows. I had just enough time before the rain came.
The other decluttering I'm doing is here at Sparkpeople. Writing down every morsel that goes in my mouth and looking at the calorie count helps me decide I really don't need anything else to nibble on. In this case I plan to toss out excess pounds. This is a happy kind of decluttering.