Wednesday, August 15, 2007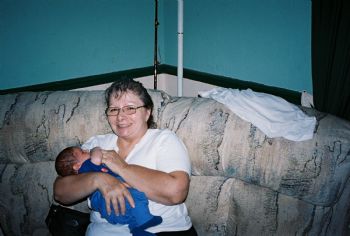 This is a picture of me and my great-grandson Ethan.
I have not had to get new glasses(well I haven't gone for an eye exam) in over 5 years. OMG the lenses alone were over $250 and the frame for my new and improved sunglasses were about the same. Thank goodness I used my same frames for the regular ones--whew! And the doctor said they may take some getting used to as the prescription has changed--so I will be more dizzy than normal--lol ! I have never before been told that my astigmatism was in both eyes--it has always been the right one, and get this now I have one nearsighted eye and one farsighted eye--I have never been told that before either--strange things happen as you mellow-ha--ha!
Have a great day--Kathleen in florida