Week 7 Update
Sunday, July 29, 2007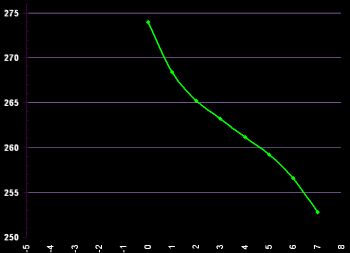 Here we are, end of Week 7. I'm happy to report that I weighed in at 252.8 this morning. That is 3.8lbs down from last week. Works for me!
Week has gone really well… people are starting to comment on my weight loss which makes me feel good. In fact, several other people at work are getting inspired to lose weight because of me… we've started a little 2month/15lb challenge at work. Four of us so far are going to try to meet this challenge… which for me shouldn't be a problem… in fact I'm hoping to lose a little more than 15. But anyway… those who don't meet the goal have to paint their hair some strange color (of our choice) for the whole day. Plus… whoever loses the most gets lunch bought by the rest. Hopefully I will win the free lunch.
Pants are fitting looser. I find myself feeling thinner… sitting or standing in positions that I might have avoided before because it just seemed like it emphasized my belly too much. I can tell when I'm driving my gut is farther away from the steering wheel. I can bend over to tie my shoes much easier… I don't have to bring my foot up to me… which always makes the knot on the side of my shoe… I hated that.
I saw the eye doctor the other day… for the first time in my life as far as I can remember… looks like I have a slight astigmatism… so I am getting some glasses that I can wear as needed. I've never had vision problems before… but lately things are kind of blurring sometimes. Plus he said my corneas were dry… so I have drops for that now. I mention all this… because I think it some of it has to do with the blood pressure medicine I've been taking. I started noticing the blurriness not long after starting the medication. Anyway.. I suspect the diuretic part of my medication is drying my eyes out… so I'll talk to my doctor this week about the possibility of adjusting that. Ultimately though, my mission is to get myself off this medication.
I know I'll be so excited to be in the 240s range… so I'm going to push real hard this week to make that happen. I'm very close… and it's definitely doable. It's good to have goals… so I figure that's a good one for this week.
I tried to celebrate a little bit today with a "cheat day" after my weigh in… but somehow… my lunch didn't turn out to be such a cheat after all… after counting it all up… it really wasn't above average at all. So tonight… I'll try again. I do believe in having at least one day of the week where my calories spike somewhat above the rest of the days. I don't want to get crazy or anything… and I really don't even want any kind of desserts or sweets or anything… and I don't even want a ton of food… just maybe a reasonable meal with a few things I enjoy that I might otherwise avoid.
That's all I got.
10-Jun-07 274
17-Jun-07 268.4
24-Jun-07 265.2
01-Jul-07 263.2
08-Jul-07 261.2
15-Jul-07 259.2
22-Jul-07 256.6
29-Jul-07 252.8