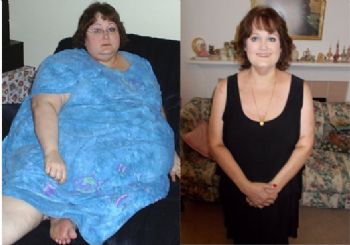 I used SparkPeople and ate MORE naturally, in other words, less processed foods. I started by eliminating growth hormones, which can make cows fat (and thus the people who eat and drink from the cows fat) from meat and milk and buying organic. Talk to your doctor about anything I'm about to type next. It is only my opinion and I am writing from my experience.
The LESS Processed food in your diet, the thinner and less hungry you will be. Your appetite will drop like crazy when you get on more natural sources of food. Note: I say MORE and never ALL. ALL makes life a pain in the butt sometimes and can be very expensive, but it is something to strive fore.
Vitamin D is something people who have a lot of belly fat are low in, which has been shown in many scientific studies (see google), so I took it through my weight loss for seasonal affective disorder (depression from sun deprivation) and also because I have a lot of belly fat.
Cinnamon and Chromium 2000 mg cures a sweet tooth for me personally and is something that helps with my diabetes and helped me get off insulin. You can get it at any Walgreens or Walmart and it comes in a green bottle for around ten dollars. It helps with keeping blood sugar from spiking and seems to help me with my binging. I also took this throughout my weight loss and need to get back to it. It seems I plateau whenever I become lax with this one supplement.
B12 I took this throughout my whole weight loss in either shot or tablet form. It helps with energy and pairs well with the other B vitamins for balance, especially b6 and b1.
Protein- I like Nectar Sweets by Syntrax, which you can get on Amazon because it mixes well, isn't clumpy and tastes good. There are a variety of flavors and you don't have to drink 8 ounces at a time! 2 ounces can give you 24 grams of protein for 100 calories! Flavors include my personal faves: cookies and cream, fuzzy navel, double stuffed cookie, chocolate truffle, cappuccino, strawberry mousse, vanilla torte and more.
More tips to come at a later date. That's it for today. Have a great day!