Sunday, August 24, 2014
Excuses meaning: attempt to lessen the blame attaching to (a fault or offense); seek to defend or justify.
As I was sitting here thinking about things, weight loss In particular a few things went through my mind. I have been going through life struggling with my weight, I know what to do and how to do it, but I am not doing it why? Excuses I have become very good at making excuses. Some are valid some are not, but an excuse is still an excuse no matter what. I had some clarity, until you take ownership of your actions and behaviors or lack thereof and stop making "excuses" nothing will ever change. Think about it you can only change what you acknowledge. You have two choices, you can sit around making excuses, after all it is so much easier to blame someone or something else then it is to do the hard work that is required, or you can take action and make it happen. You will only get out what you put in. meaning if you and by you I mean myself also sit around complaining, eating crap not working out "making Excuses". Then the scale, your health and your life will reflect that. However, if you put in the hard work make changes even small ones then that is what the scale, your health and life will reflect. I am not saying that it will be easy and it is not going to happen overnight. No one can do it for you, you have to decide that you are worth it, commit never give up you may stubble or fall just pick yourself up brush yourself off learn from it and keep going and it maybe inch by inch but you can and will succeed. I leave you with this do you want to spend your life making Excuses or are you going to take action?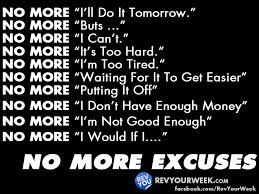 Hugs
Brandy