How Good Is Your Soil???

Saturday, August 23, 2014
Is it "good enough" to produce healthy vegetables (results)? Do you tend to it on a daily basis by hoeing, removing weeds and rocks, watering, adding organic nutrients and/or soil compost free of chemicals?
My love of gardening began with soil that was "untouched" for many years. Except for weeds and clumps of hay-like grass, nothing of value grew there. I made a conscious decision to give that soil new life and start a new hobby by growing a few vegetables and herbs. Making that decision was my first step. Because I wanted to be successful at gardening, I made a list of goals that needed to be accomplished before I could plant my first seed. Getting tools and fencing ready, tilling the soil, removing rocks and weeds, and adding organic nutrients to the soil were items on that list. And it was all hard work. I then drew a diagram that would depict how I wanted my garden to look, where to plant the tomatoes, zucchini and a variety of herbs, along with marigolds. The diagram remained in view as a daily reminder of what the garden should/would look like.
Every day, I spent time nurturing that soil. Some days, I tracked 10 minutes of "gardening" which was soon increased to 60 or more minutes daily. When you find something you really enjoy doing, time passes by quickly and "work" becomes fun. I looked forward to tending the garden every day.
Some of my previous blogs contained pictures of my "work in progress". The following pictures depict successful goals completed. At the end of the season, I will continue to keep the soil nurtured so the end result of a fruitful harvest will take place year after year.
Yes, there is a subliminal message here. How good is your soil????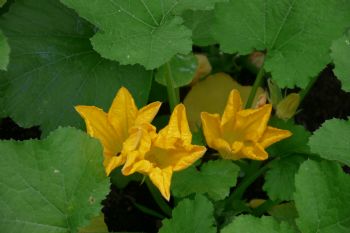 Zucchini in Bloom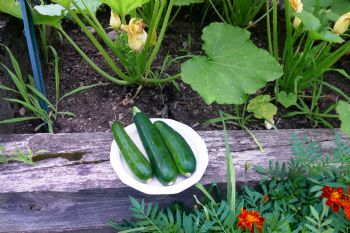 Zucchini and Marigolds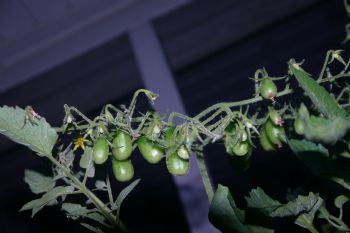 Grape Tomatoes - early stage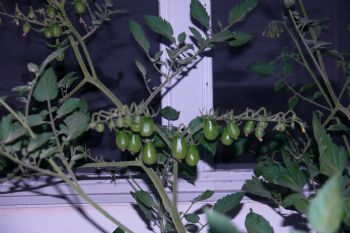 More Grape Tomatoes
Red Grape Tomatoes – ready for picking!)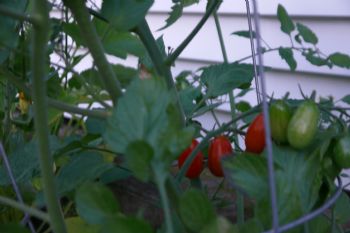 More Red Grape Tomatoes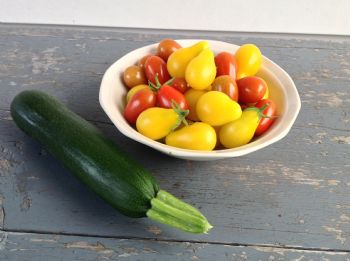 Yellow-Pear Tomatoes, Red Grape Tomatoes with Zucchini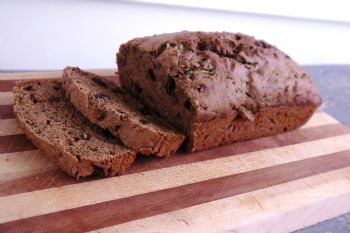 Whole Wheat Zucchini Bread
5-Ingredient Zucchini Soup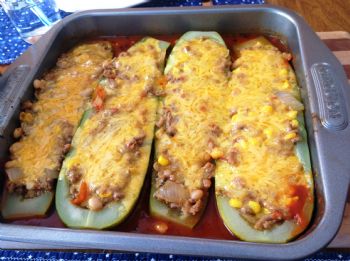 Zucchini Boats- cheddar, turkey, beans, tomatoes
Got the message????
Member Comments About This Blog Post
MAYBER
Analogy



673 days ago

JIMA64
Enjoyed reading of your success. I too started gardening in my parents former garden area. Looking forward to spring.


838 days ago

LORIVIOLA
blog!
maybe next season i will plant something!


847 days ago

DMCWJR


Very nice thanks.


874 days ago

AUSSIEJAN2
I never thought to ad cheese etc to Zucchini. Thanks!


877 days ago

GLADGAD
I really enjoyed your garden blog. I live in South Florida, and the sandy soil in my yard is not conducive to growing a lot of vegetables without help. The insects are also horrible, which is why I usually garden in containers. My boyfriend insisted on having an in-ground garden, so I told him to go ahead. Over the summer we have been growing peppers since it's too hot for just about anything else. We add bone meal and epsom salt for the soil and make our own bug spray. We also planted lemongrass and marigolds around the garden, and that seems to help a bit with the bugs. I am looking forward to cooler weather where we can start planting things like tomatoes, zucchini, beans, and we'll see what else. I enjoy it too, and recently bought some green tea plants. We also have almond and cashew trees that will be going in the ground soon, too.


877 days ago

MRSRIGS1
You've done a fantastic job! P.S. Yes, I got your message.


879 days ago

LINDA!
Great blog!


880 days ago

SEATTLE10


The vegetables are beautiful and the zucchini bread looks yummy, also. I too like working in the yard. I live in the South where we mostly have red clay, so it's definitely a challenge to grow things. One of my co-workers got me interested in gardening, so I've been at it about 3 years now. I have 2 raised bed boxes so I planted strawberries and kale the 1st year, which produced pretty good. I also bought some blueberry bushes that have done pretty well. This year I didn't try to plant anything in the raised beds because of the weeds growing so fast. so I've been container gardening this year. I've been growing sweet potatoes, arugula and lettuce, but trying to grow those things has been a challenge because of the bugs eating the leaves. Ugghh, they have really been eating everything even my flowers. Well, fall is here and maybe I'll try to grow some greens since it's still warm. Love your blog, keep up the good work. And, yes my soil is good.


880 days ago

NASFKAB
loved your blog congratulations on being spark mail must cultivate both mygarden & my body


881 days ago

OI4GOTIT1


I love to try gardening. Don't know how to prepare the ground before planting. Very interesting. Great job!!


881 days ago

MTRANCHWOMAN


Your subliminal message is wonderful. I too garden.


882 days ago

OPERATIONGD


Love love love this!


882 days ago

DADDYS_GIRL6
Thanks for sharing! Beautiful pics and great harvest!!


883 days ago

HOLLYM48
Good for you! Your garden produce looks so delicious!! Way to go on cultivating that beautiful garden and congrats on being the community highlight this week!


883 days ago

MBTEPP
on all your hard work. It does pay off.




883 days ago

DJ4HEALTH



884 days ago

TXGRANDMA
Everything looks delicious! Good for you for growing your own food! Fresh, Fresh, Fresh!


884 days ago

NELLIEH1
Really appreciate your blog...especially your question about our soil...the soil of our hearts, too!


884 days ago

SLIMLEAF
Good blog!

Great photos too - your garden produce and what you've made with it all looks delicious.


884 days ago

DGRIFFITH51
Thanks for sharing, I love gardening too...and yes, it is great exercise!


884 days ago

CAROLYN1ALASKA


Great looking garden! Your gardening skills are awesome...


884 days ago

NEWTINK
My soil is better than it was a few years ago but it is still a work in progress. your garden loves lovely .


884 days ago

UTAHLADY


How beautiful! My garden started out with native soil and no nutrients. Then it had to be fenced to keep out the rabbits and deer. Then it was moved to raised beds in a fenced area of the property. Then I built up soil again. The message is - keep at it and you will reach your goal. This year after surmounting extremely high winds in the spring, drought in the summer, an abundance of rain in late August/early Sept, an early freeze one night when I was gone, and then temperatures soaring into the 80s I am harvesting beans, squash, zucchini, tomatoes, and potatoes. I am working on harvesting myself.


884 days ago

HOPEFULHIPPO
LOVED this!!!!




884 days ago

SKELLEY3440
Definitely liked this. I saw the subliminal message immediately and love it. I will definitely think and grow on this myself. Thanks!!


884 days ago

RNVICKI


i love fresh fruits and veggies but a gardener I am not. I do take advantage of local Farmer's Markets


884 days ago

CESPRINGALL


I do not usually read blogs. However, your title caught my eye. I too hard your soil at one time. I had an oasis for a back yard. Then my husband was hurt in a car accident. I took care of him for 3 years before he passed away. My garden was left. The only thing that mattered was my husband. He passed away two years ago. The garden is still neglected. My daughter has tried to do something, but she has never liked it.

Your blog reminded me how much I enjoyed that garden and how much work my husband and I put into it. It took almost 10 years to work each section, fix the soil, build arbors, a pond, a patio, a fire pit to smoke food etc.

I cried when I read your blog and am crying now. The memories you brought back and the hope as well. It all starts and ends with the soil.

Thank you!


884 days ago

JIBBIE49
Week of 09/25/2014 - Featured Blog Post

How Good Is Your Soil?
===============================
===
Great to see your blog in the Spark Mail.


884 days ago

123ELAINE456
Beautiful Photos. Awesome Crop. Keep It Going. Thank You for sharing. God Blessings Always. Have a Nice Day. Hugs!!!!!!!!!!!!!!!!!!!!!!!!!!!Take Care.


884 days ago

ZZOCCOLANTE
Nice post. I love how gardening is such a great metaphor for life as well as the actual gardening. I love the outline so to speak:
Conscious decision, list of goals, tools, time and hard work which becomes more and more fun.
Success is also having a lot of fun with the work you do.
Thanks for sharing and happy gardening.
With Love. Z :)


884 days ago

BANNERMAN


Thanks for sharing.


885 days ago

MOONGLOWSNANA
Yum! I'm always sorry to see the garden end and the time coming to put it to bed. My yellow grape tomatoes were scrumptious. My granddaughter who is five stood, picked and ate every one she could reach. She's always loved tomatoes. They were just that good! There's nothing like a home grown tomato!!!


885 days ago

KHALIA2
Great Job! Your vegetables are beautiful and look delicious!


885 days ago

KATELJM
I admire people who garden, but somehow I did not get the horticultural gene possessed by everyone else in my family. If I work on plants, I get rashes.

So I shall continue to work my health garden, preparing my body to show the fruit of my labor.


885 days ago

WHITEANGEL4
Great blog. I am turning over the remainder of my plants. No longer producing. I will et it set for a few weeks and turn again. I only have a small plot but will rotate my . crops next year as I know that is important to keep the soil predicting. I am also covering with pine straw which will be turned into the soil prior to planting


885 days ago

ROCKYCPA



885 days ago

BLNBIKERIN1
All that looks very delicious!
Don't forget to rotate the places for your veggis every year, because different plants use different soil ingredients. Planting the same thing in the same spot may actually poison the area, while some nutrients are depleted, others accumulate too much.
How good is my soil? when I started my new garden 2 years ago (raised beds) I literally started with an empty bed (over untouched soil). Compost is expensive, so I opted for 1/2 the height with mulch, which degraded to rich soil over time, topped it with good topsoil/compost mix.
This year I had plenty of grapes, some tomatoes (it was too hot this summer), Fennel, green beans (still have some in my freezer) and still enjoying red and yellow bell peppers.
Just finished adding 6 cuyrd compost to compensate for the degrading deficit, everything is getting ready for fall, when it's time to start next year's crop seeds (no frost in SoCal). Looking forward to blue potatoes and Fennel bulbs next year, maybe even blackberries.
Keep on gardening, my friend!


885 days ago

SVELTEWARRIOR
Wonderful Blog!!!!!


885 days ago

GOOZLEBEAR
Awesome blog and pictures and congratulations on your blog being the feature of the day!!!!




885 days ago

JSEATTLE


Love your garden and it's fruit. I love my garden too, and it has come a long way over the years. As many rocks as I've pulled from the soil, there are always more!


885 days ago

JAMER123



885 days ago

MISSENG
Love the garden pics. A nice bountiful harvest after all your hard work. Happy healthy eats!


885 days ago

CAROL3SAN



885 days ago

CYPATAYLOR2
Everything looks amazing. You are doing an awesome job. Keep it up and thanks for sharing.


885 days ago

SUGAR0814
wonderful garden!


885 days ago

CAROLJ35
Loved the colorful photos as well as your insightful words!
THANKS FOR SHARING!!!


885 days ago

JUNETTA2002
Loved the blog




885 days ago

ANGELAIRENE



885 days ago

CURVYCC
everything looks so delicious! I love fresh from the garden veggies. That's what I grew up on. I sure do miss my dad's garden.


885 days ago



Disclaimer: Weight loss results will vary from person to person. No individual result should be seen as a typical result of following the SparkPeople program.
More Blogs by LUVS2BIKE101